Bespoke dining tables
Looking for a bespoke dining table that is stylish, functional and fully customisable to suit your needs? Then you're in the right place. In conjunction with some of Britain and Europe's best furniture makers, we can supply unique, handmade dining tables in a host of different sizes, styles and finishes to match your décor. As such, whether you're after a compact design for a small kitchen nook or a larger bespoke dining table for entertaining guests, we can help.

Sintered stone & solid wood bespoke dining tables
At New England Home Interiors, our sturdy bespoke dining tables come in a variety of materials to suit your taste. Choose from timeless solid wood designs made from honey-coloured oak, cool ash or rich walnut to complement and add warmth to a range of interiors.
Alternatively, our contemporary bespoke dining tables with sleek metal bases are an extremely popular choice. Our best-selling sintered stone Dekton tables are available in various natural stone effects without any of the compromises. Key benefits include being resistant to stains, heat, fading and scratches – perfect for a family dining room or kitchen.
We also offer several elegant, lightweight ceramic dining tables which are glazed to protect against liquid spills. Meanwhile, our unique Neolith models made from 100% natural and recycled materials, making them our most eco-friendly bespoke dining table option.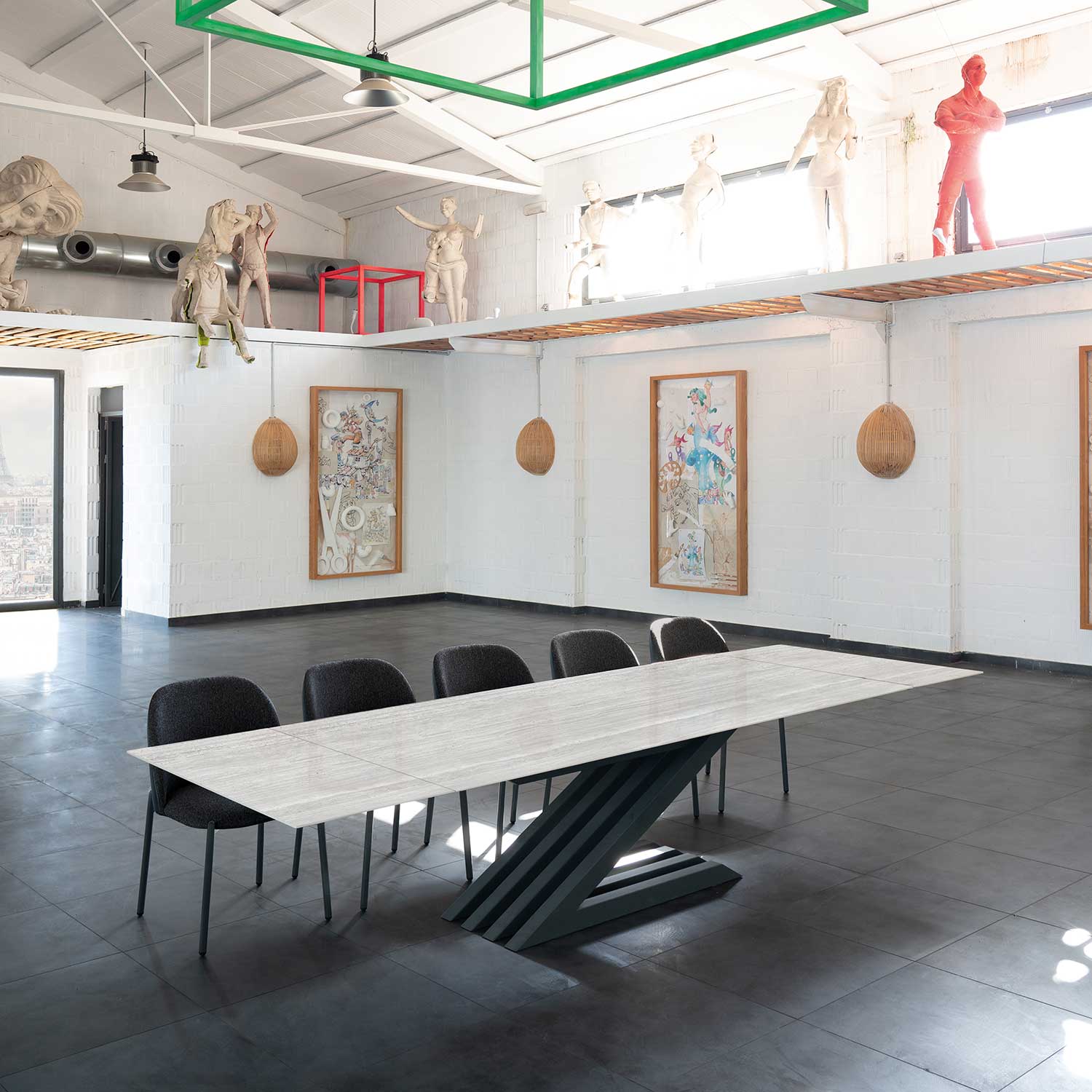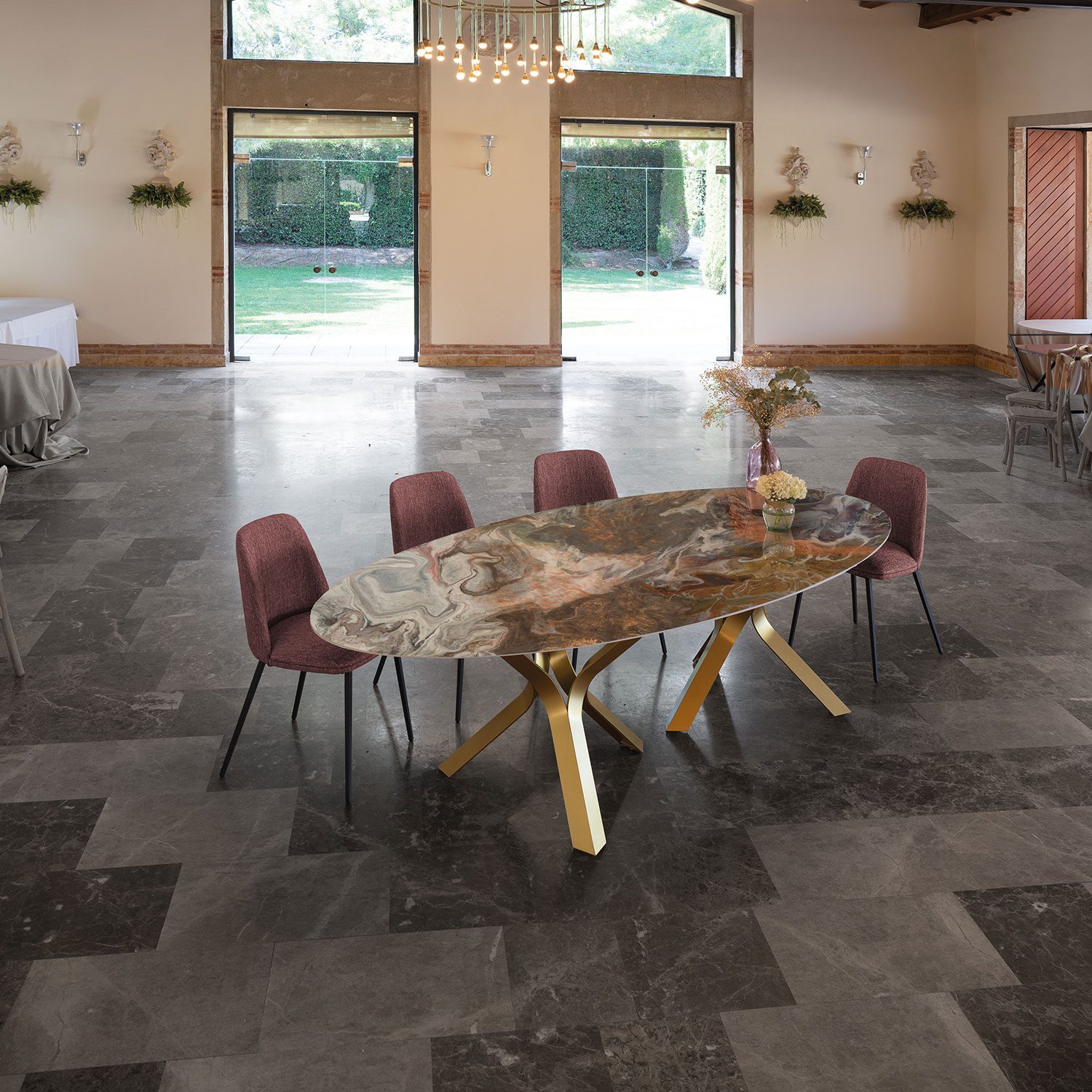 Made to measure dining tables to fit your space
Regardless of the design, each handmade table is made to measure to ensure it fits neatly into the space you have available. With that in mind, our craftspeople can make adjustments to the width and length of your preferred model upon request. In addition, they can raise or lower the height to create a bespoke dining table tailored to your height for improved comfort.
You also have the option of a rectangular, square, oval or round table, depending on the look and feel you're going for. And, if you regularly entertain friends or have a large extended family that visits often, there is the option to upgrade to a bespoke extending dining table too.
Choose from slide out or folding leaves – each with high quality mechanisms for a smooth transition. Many designs also have wheels on one end for easy operation by a single person.
Fabulous local and friendly shop who go out of their way to help. We're happy to research and find what we wanted. First class service and highly recommended.

V. Treherne

The shop has a great display of interior items as well as beautiful furniture. We love the sofa and chairs we bought and were helped greatly by the attention and knowledge of Joby and Jennie.

D. Faithfull

We purchased a dining set and coffee table from New England Interiors. The service from Joby was fantastic and he helped us find exactly what we wanted. The quality of the furniture is outstanding, and we'll certainly be back.

K. Featonby

We popped into New England to look at a sofa and ended up completely furnishing our new home!

C. Allen

We recently purchased a beautiful sofa and chair from New England. I have to say that customer service is second to none.

A. Godfrey

Travelled to the showroom to view a particular corner sofa we had seen on New England's social media, but instantly fell in love with their NEW Washington corner. So much lovely stuff to see

M. Gibson-Brown

Great professional, friendly service from Joby at New England Home Interiors. From visiting the showroom, which is lovely, to purchase, and delivery, communication was very good, and everything went absolutely smoothly. The sofa is a very well-made quality item. I definitely recommend New England Home Interiors.

S. Drake

Platinum Service from start to finish. Any queries or issues dealt with immediately and professionally. Highly recommended.

I. Chance

Jennie and the team were brilliant from start to finish, and my sofa looks wonderful. Thanks again.

O. Nightingall

Wonderful service and products. We have purchased Sofas, ceramic side tables and a brilliant Fenix surfaced dining room table and are super happy with all of them. Excellent, knowledgeable and careful service

N. Bennett

Got a gorgeous lamp from New England Home Interiors and the quality of it is exceptional. Really beautiful. I love it. Very professional as a company too, highly recommend

Jenny S

Excellent store. Friendly knowledgeable couple, attentive and informative to guide you through the beautiful range of their excellent quality products.

Adrian B

A great company to deal with, quality products backed by a fantastic and friendly professional service. They have a genuine passion for their business and their customers and I'm sure we will be returning time and time again.

Mike G

We are delighted with how Jennie has furnished our home. A real professional. Thank you .

Kamal K

New England Home is the most beautiful interior showroom around by far, perfect for finding little gems, gifts for love ones, treats for your home and the most stunning luxurious bespoke furniture. Extremely happy with all my purchases over the years. The staff are incredibly knowledgeable and have the best visions, always going one step further to help.

Abby P

Fantastic service from start to finish throughout the process, to the on time delivery of our bespoke corner sofa. True professionals and superb quality. Absolutely delighted with the sofa, thanks guys.

Paul PH

Love this shop the staff are always very helpful and polite. So many options in store for me to look at for my newly purchased property. Joby is very patient and always helps me with my decisions. I will be back soon and would recommend to others. Great service and great products. Joby is very knowledgeable and pays excellent attention to detail.

Daniel B

A wonderful shop with fantastic customer service from start to finish with a care and attention to the smallest details. New England have transformed our house into a beautiful and comfortable home, thank you

Sarah M
Bespoke dining tables in a range of styles & finishes
Once you've selected your made to measure dining table material and size, it's time to hone the finer details. This includes deciding between corner legs or a central pillar, and choosing the colour and finish of both the tabletop and base.
If you opt for one of our bespoke wood tables, you have the choice of machined edges for a clean, modern finish. Or you could go for a live edge where the natural contours of the wood are left exposed for a more rustic look. Likewise, we can stain the wood in your preferred shade, or simply seal it to preserve the natural tone.
Meanwhile, there are over 70 different types of Dekton tabletops. This includes block colours and designs featuring marble-style veining and natural stone graining, each available in matt, semi-matt or polished finishes. Similarly, our Neolith bespoke dining tables can be specified with stone, marble or iron effect surfaces, and our ceramic models boast 30 different finishes.
You can also stick with lacquered steel or aluminium steel legs as standard, or have them specially painted in your preferred RAL colour to tie the table into your existing décor.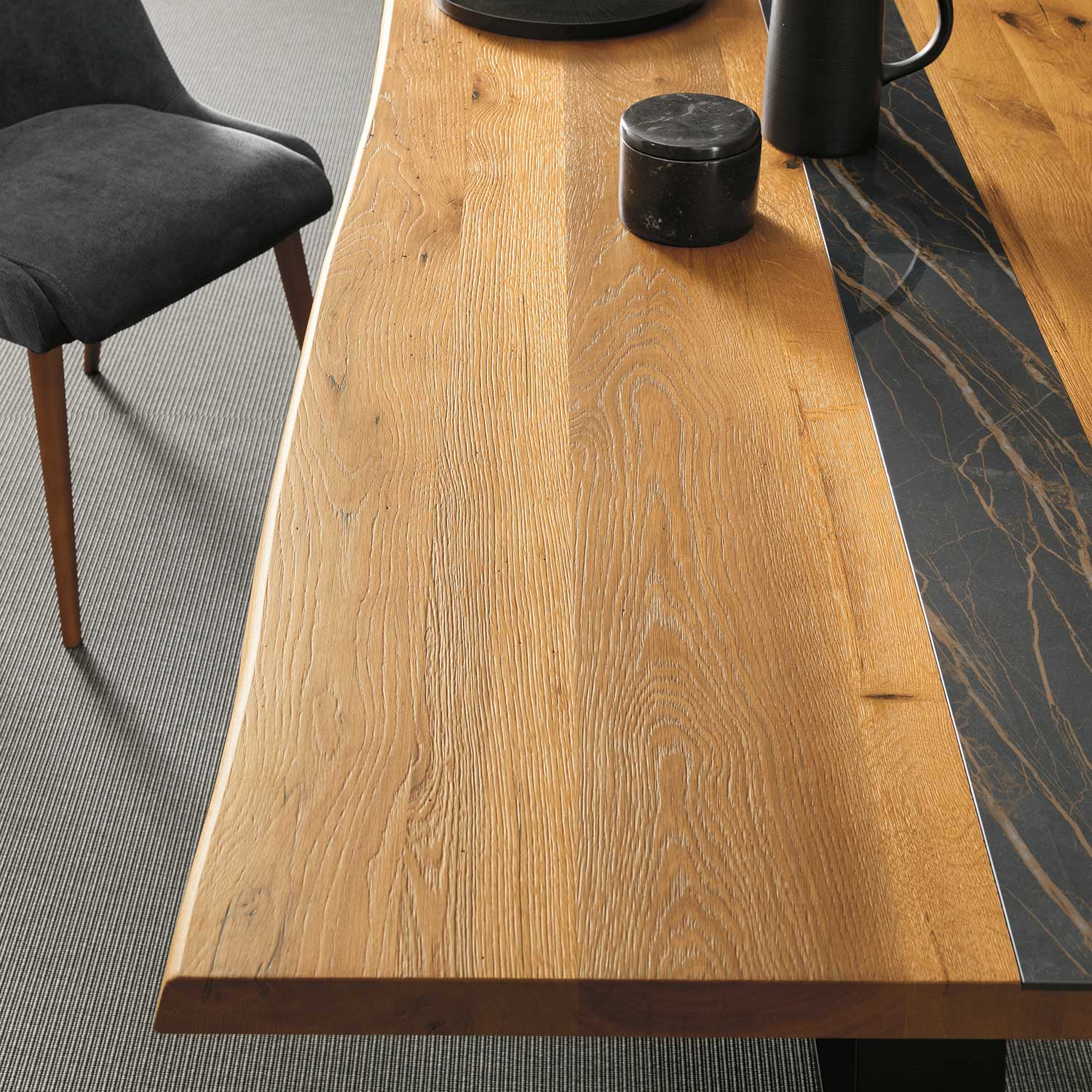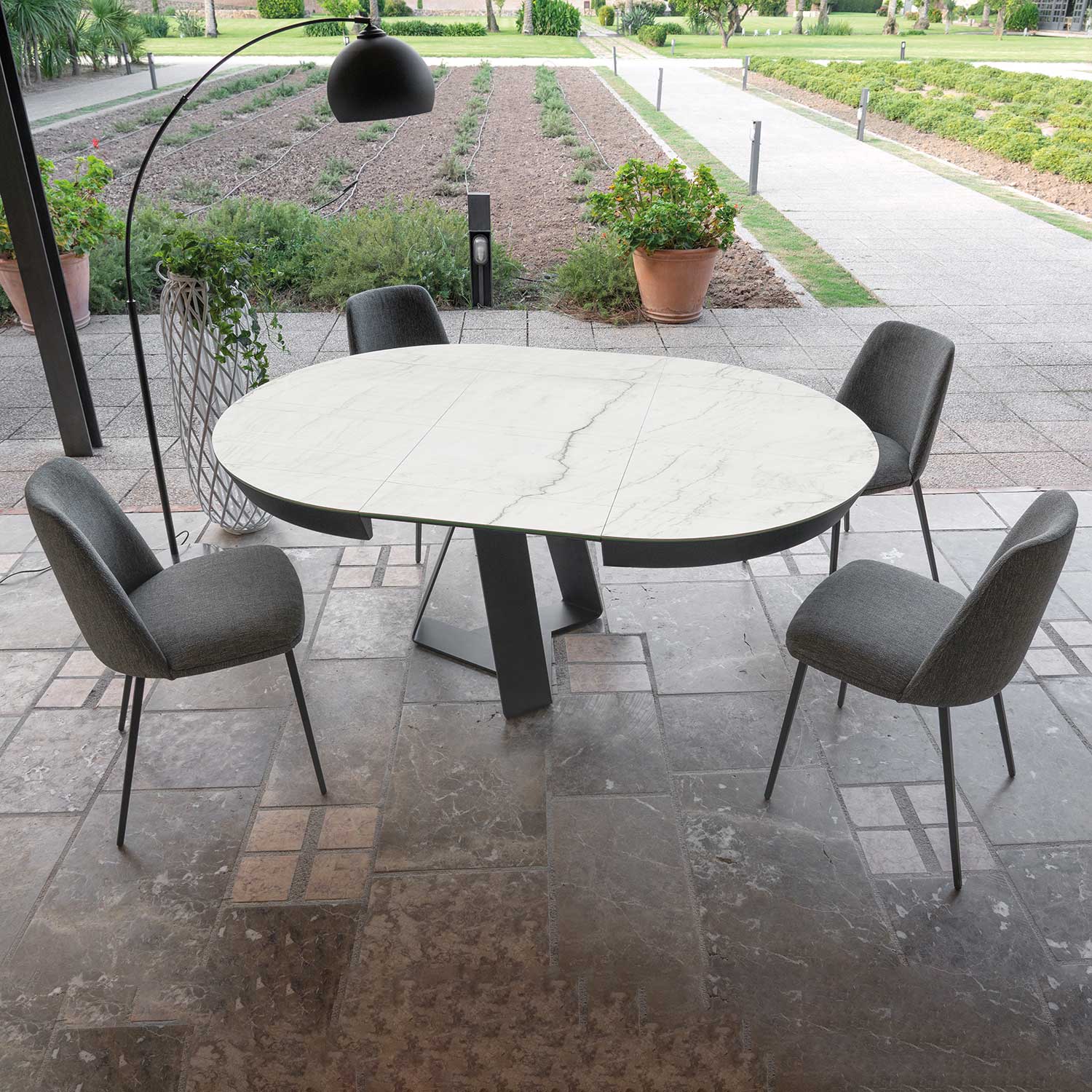 How to order a custom-made dining table
At New England Home Interiors, we offer expert advice on every detail of our bespoke kitchen tables to help you find the correct size and specification for your requirements. This includes a free home visit with measuring service. We can also provide composite stone swatches when we visit to help you envisage your final choice and recommend matching dining chairs if required.
Once you've placed your order with us, the lead-time will be confirmed which is generally 9-12 weeks. At this stage, we will contact you to arrange a suitable date and time for delivery. On the day, our trained logistics team will set up your bespoke dining table in whichever room you prefer, then remove the packaging and take it away for recycling. That way, you won't have any mess to clean up and you can start using your new table right away.
To learn more, pop into our Horsham furniture showroom for inspiration and to meet our design team, or email your ideas to info@newenglandhome.co.uk. We'll get back to you as soon as we can.
More about our bespoke dining tables