Premium Fabrics for Upholstery & Drapery
At New England Home Interiors, we supply a vast array of decorative and upholstery fabrics by leading industry brands. Whether you're searching for a durable, stain resistant fabric for your new sofa or a bespoke set of window treatments, we can help.

Designer fabrics by leading brands
Romo Fabrics
Featuring both traditional and modern designs, Romo fabric collections make up a large portion of our extensive fabric library. Established in 1902, Romo's sleek in-house range is characterised by elegant colour palettes and quintessentially British designs. Each pattern is derived from hand-painted sketches created by expert designers, before being woven into fabric form by a skilled weaver. They also supply many versatile textured plain styles too.
Alongside Romo, we also stock their sister designer brands Villa Nova, Black Edition, Kirkby Design, Mark Alexander and Zinc Textile. The contemporary Villa Nova range utilises trending shades and eclectic prints to add an infusion of colour to any room. Meanwhile, Black Edition fabrics have a distinctly high-end feel, with velvet's and damasks inspired by abstract art and artisan embroidery.
Warwick & Wemyss Fabrics
From muted tones to bolder hues, timeless plains to geometric prints, you'll find the best of both worlds in our Wemyss and Warwick fabric collections. Both brands have supplied furnishing fabrics for several decades and each boasts an impressive range of colours and patterns to choose from. Warwick Fabrics also offer high-quality fabrics ideal for curtains, while Wemyss' huge assortment of wallcoverings includes every style you could wish for.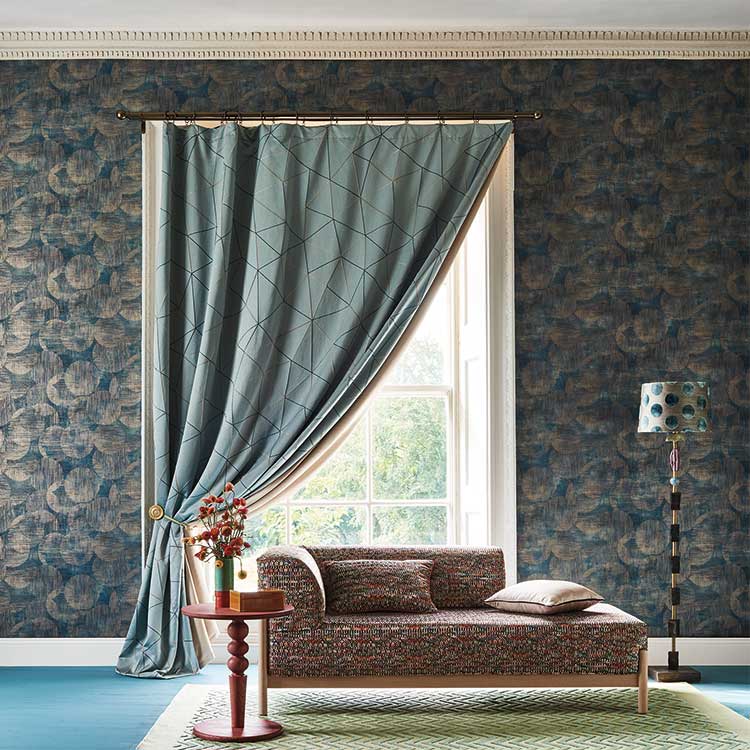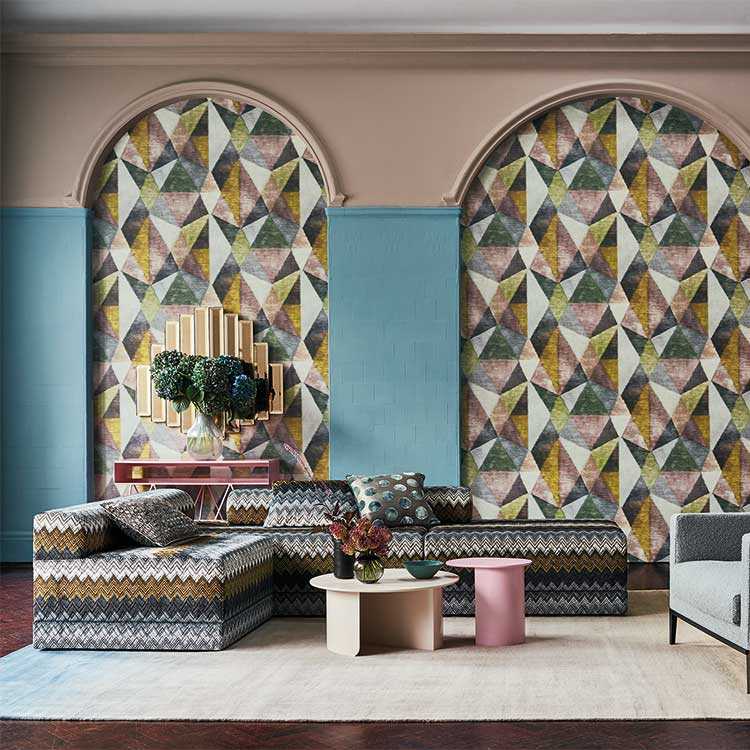 Luxury fabric types and applications
Thanks to our strong relationship with some of Britain's top fabric houses, we can source thousands of different styles to suit every taste, budget and décor theme. This includes stylish yet hardwearing fabrics suitable for our sofas, armchairs, ottomans, footstools and dining chairs, each with a high Martindale test score to ensure great abrasion resistance.
When ordering a bespoke piece of furniture from us, you'll have the opportunity to look through a library of sample fabrics and select your favourite. This will then be used to create a sofa, chair or footstool tailored to your specifications. In addition, we supply upholstery fabrics for re-covering existing furniture, as well as decorative fabrics for creating complementary curtains, blinds and cushions, all of which can be purchased separately.
New technology fabrics
Alternatively, if you're seeking a pet-friendly, stain repellent solution, FibreGuard and Aquaclean fabrics should be top of your list. Specially woven and discretely coated to stop dirt and liquids seeping into the fibres, these high-functioning fabrics are perfect for sofas and chairs in family households. They're also washable, won't lose their colour over time and both brands offer fabrics with microbial barriers to help keep germs and allergens at bay.
Fabulous local and friendly shop who go out of their way to help. We're happy to research and find what we wanted. First class service and highly recommended.

V. Treherne

The shop has a great display of interior items as well as beautiful furniture. We love the sofa and chairs we bought and were helped greatly by the attention and knowledge of Joby and Jennie.

D. Faithfull

We purchased a dining set and coffee table from New England Interiors. The service from Joby was fantastic and he helped us find exactly what we wanted. The quality of the furniture is outstanding, and we'll certainly be back.

K. Featonby

We popped into New England to look at a sofa and ended up completely furnishing our new home!

C. Allen

We recently purchased a beautiful sofa and chair from New England. I have to say that customer service is second to none.

A. Godfrey

Travelled to the showroom to view a particular corner sofa we had seen on New England's social media, but instantly fell in love with their NEW Washington corner. So much lovely stuff to see

M. Gibson-Brown

Great professional, friendly service from Joby at New England Home Interiors. From visiting the showroom, which is lovely, to purchase, and delivery, communication was very good, and everything went absolutely smoothly. The sofa is a very well-made quality item. I definitely recommend New England Home Interiors.

S. Drake

Platinum Service from start to finish. Any queries or issues dealt with immediately and professionally. Highly recommended.

I. Chance

Jennie and the team were brilliant from start to finish, and my sofa looks wonderful. Thanks again.

O. Nightingall

Wonderful service and products. We have purchased Sofas, ceramic side tables and a brilliant Fenix surfaced dining room table and are super happy with all of them. Excellent, knowledgeable and careful service

N. Bennett

Got a gorgeous lamp from New England Home Interiors and the quality of it is exceptional. Really beautiful. I love it. Very professional as a company too, highly recommend

Jenny S

Excellent store. Friendly knowledgeable couple, attentive and informative to guide you through the beautiful range of their excellent quality products.

Adrian B

A great company to deal with, quality products backed by a fantastic and friendly professional service. They have a genuine passion for their business and their customers and I'm sure we will be returning time and time again.

Mike G

We are delighted with how Jennie has furnished our home. A real professional. Thank you .

Kamal K

New England Home is the most beautiful interior showroom around by far, perfect for finding little gems, gifts for love ones, treats for your home and the most stunning luxurious bespoke furniture. Extremely happy with all my purchases over the years. The staff are incredibly knowledgeable and have the best visions, always going one step further to help.

Abby P

Fantastic service from start to finish throughout the process, to the on time delivery of our bespoke corner sofa. True professionals and superb quality. Absolutely delighted with the sofa, thanks guys.

Paul PH

Love this shop the staff are always very helpful and polite. So many options in store for me to look at for my newly purchased property. Joby is very patient and always helps me with my decisions. I will be back soon and would recommend to others. Great service and great products. Joby is very knowledgeable and pays excellent attention to detail.

Daniel B

A wonderful shop with fantastic customer service from start to finish with a care and attention to the smallest details. New England have transformed our house into a beautiful and comfortable home, thank you

Sarah M
Custom window treatments
Did you know that we also offer a made to measure service for curtains and fabric blinds? As mentioned above, many of the luxury fabrics we supply are also ideal for adorning windows. Neutral linens work beautifully in living rooms and offices, while plush velvets and jacquard designs add the perfect finishing touch to master bedrooms. We can also source lightweight silks and sheers for an airier feel – the choice is yours!
The New England Home Interiors team will visit your home to take measurements and note your preferences. You'll have the opportunity to browse our library of fabric samples and curtain pole options and decide whether you'd like to add linings and tiebacks. If you'd like your curtains to match your furniture, we can also help you select a complementary pairing. Alternatively, you can provide measurements and we will supply window treatments to fit.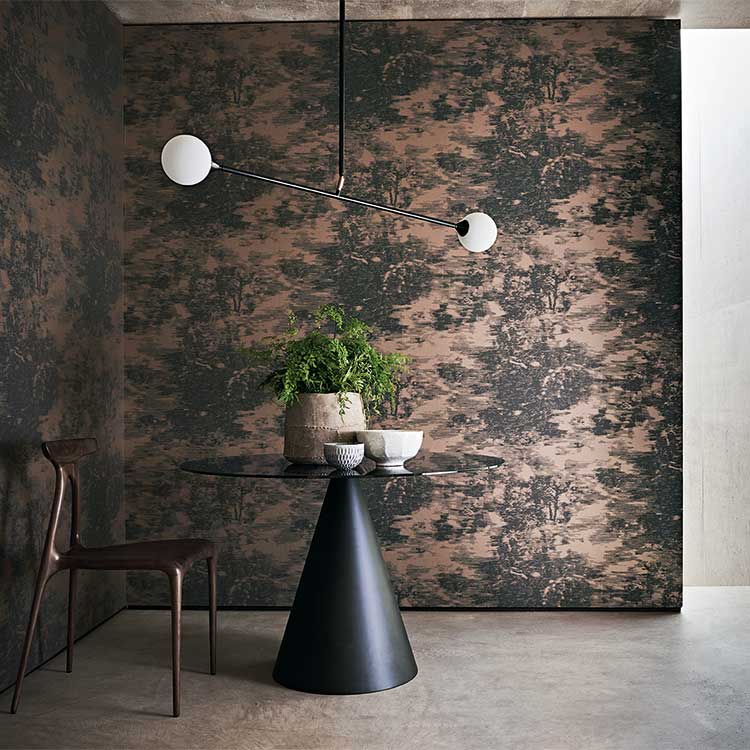 Exclusive wallcoverings
As well as supplying a wide variety of quality fabrics for upholstery and drapery, some of the brands we work with also offer luxury wallpapers. Romo, in particular, boast a range of beautifully designed, industry leading wallcoverings. Their collection includes everything from printed linens to washable vinyls and eye-catching murals to embossed plains.
They also have a multitude of finishes to peruse, including pearl, matte and metallic styles, plus a choice of paste the wall or paste the product options, depending in which is easiest for you. Pair your chosen design with bespoke curtains in a matching shade or custom-covered furniture with complementary accents to tie everything together for a chic and cohesive look.
How to order Luxury fabrics through New England
Keen to browse our collection of luxury fabrics and wallcoverings? While we don't stock every variety at our showroom due to the sheer volume of options available, we do have a large library of fabric samples available for you to view in store.
Once you've found what you're looking for, we'll order fabrics direct from our suppliers on your behalf. Depending on the type of fabric you choose and whether any protective treatments need to be added, lead times range from 3 days to a couple of weeks.
For more information or to request a home visit, please call 01403 330508 or email info@newenglandhome.co.uk