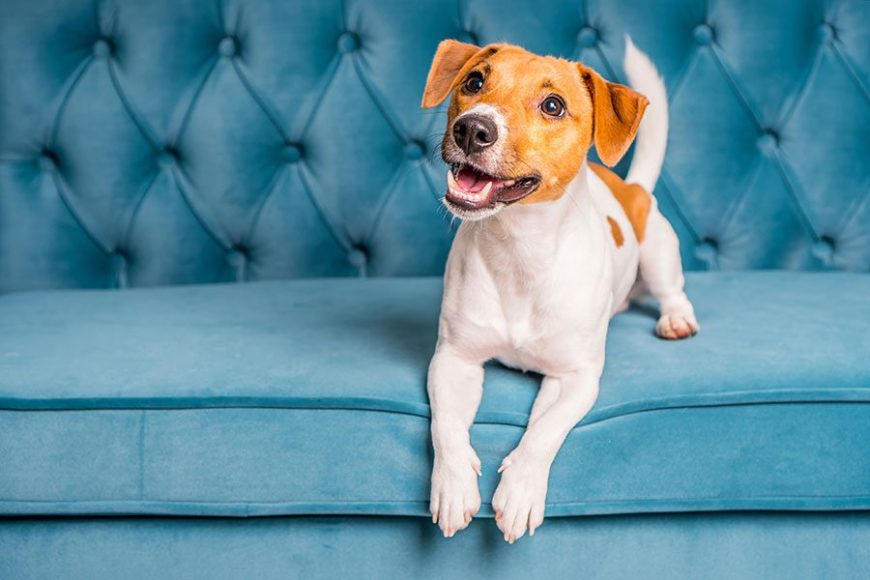 Did you know that all of our armchair and sofa fabrics are graded according to the Martindale test for durability? Many of our innovative sofa fabrics also employ new technologies for exemplary stain and dirt resistance. But what exactly does this mean and why is it important to bear in mind when selecting new seating for your lounge? Read on to learn everything you need to know about sofa fabric durability and enhanced protection to help you make a more informed decision.
What is the Martindale test?
The Martindale rub test measures the durability of a fabric and rates it based on the amount of abrasion it can tolerate before showing signs of wear. During the test, a piece of fabric is pulled taut between two metal discs – one of which is covered with sandpaper, wire mesh or worsted wool. This disc then oscillates against the fabric while it is continuously assessed.
When there is a noticeable change in appearance or the yarns start to break, the test ends and the fabric is graded based on the number of rubs it withstood before damage occurred. This figure is given to the nearest thousand and is a good indicator of how the fabric will fare in certain scenarios. Below is a guide to what each rating means for upholstered items.
Durability ratings explained:
6,000 – 10,000: Decorative use. Suitable for cushions, but not furniture upholstery.
10,000 – 15,000: Light domestic use. Suitable for furniture used occasionally.
15,000 – 25,000: General domestic use. Suitable for everyday furniture, but not for high use items, recliners or chairs with moving parts due to likely fabric stress.
25,000 – 30,000: Heavy use. Suitable for furniture that gets heavy use, as well as recliners and light commercial use.
30,000 – 50,000: Commercial grade. Suitable for heavy domestic or commercial use.
New England sofa grades
At New England Home Interiors, all the fabrics used in our sofas and chairs have achieved an impressive Martindale test score of at least 40,000 rising to 250,000 for abrasion resistance. This means they are suitable for heavy use in both domestic and commercial settings, and that they will take a long time to show any signs of wear.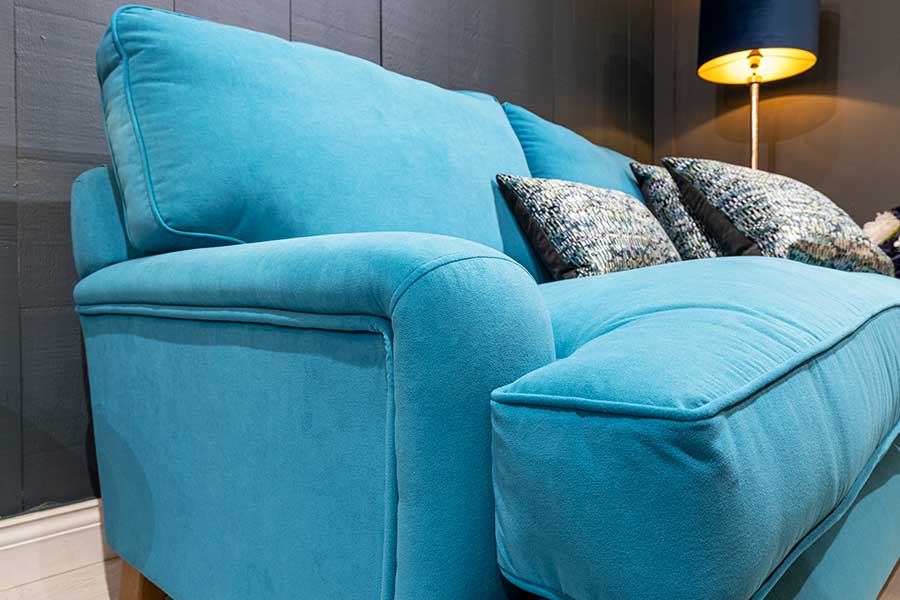 However, it's important to remember that the fabric rub test only measures durability in terms of how much use your sofa will get. When choosing the perfect piece of furniture, you should also consider the fabric composition and how easy it is to maintain. With that in mind, the majority of our upholstered furniture designs combine a high Martindale rub test score with new technology fabrics for guaranteed longevity.
What are new technology sofa fabrics?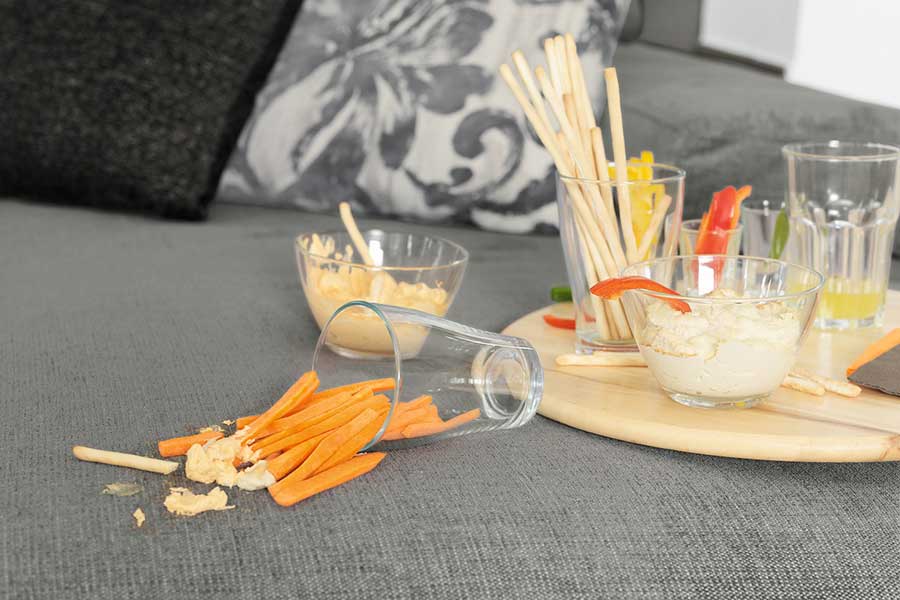 Our new technology armchair and sofa fabrics are high performance, manmade materials that are specially woven and treated in a way that repels dirt and stains at a molecular level during their manufacture. This is achieved with either FibreGuard or Aquaclean – both technologies are employed by leading fabric houses, specialising in long-lasting and easy to clean upholstery, used for all New England Home Interiors sofas and armchairs.
FibreGuard
Our FibreGuard protected fabrics are stain resistant, hardwearing and available in a huge variety of materials, colours and patterns to complement your décor. They go through rigorous mechanical testing, including a Martindale rub test and tests to measure colour fastness, washability and fire retardance.
These fabrics are also designed in a way that ensures they won't release harmful chemicals into the environment. In fact, the FibreGuard fabric protector effect is permanent, even after cleaning and prolonged use. You even have the option of upgrading to FibreGuard Pro fabrics that have an extra anti-microbial barrier to protect against germs and unpleasant smells. Very useful for pet owners.
Aquaclean
Meanwhile, new technology fabrics protected by Aquaclean, feature an invisible treatment that coats the fibres and prevents dirt from penetrating them. This treatment also repels liquids and offers advanced fabric stain protection, so that any spills sit on top of the material rather than soaking into it. Aquaclean also facilitates easier cleaning to make sure that stains can be cleaned up with just water and a clean cloth without leaving behind any residue or smell – that includes wine, blood, milk and permanent marker too!
If that wasn't enough, Aquaclean protected fabrics also boast Safefront Technology which protects against viruses, bacteria and common allergens. Perfect for if you have pets or young children who are prone to creating mess in your living room!
Why choose tailored sofa fabrics?
Unlike cheaper mass market sofas, the high-quality sofas we supply at New England Home Interiors are fully customisable. From the luxury fillings and frame size to the colour and composition of sofa fabrics, you can tailor your seating to fit your home, comfort and lifestyle.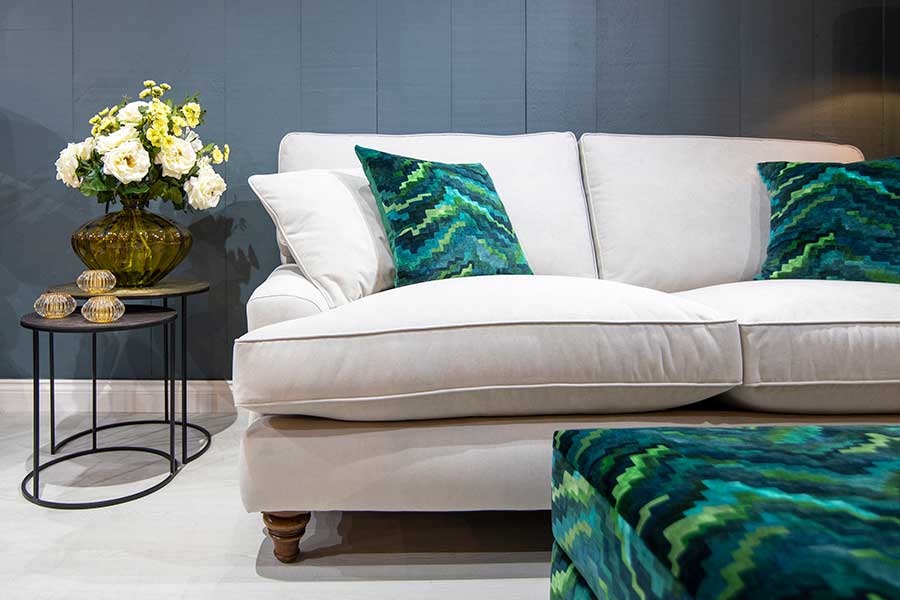 Choosing the right fabric is particularly important if you want your sofa to stand up to the rigours of everyday use. For this reason, all of our sofa fabrics are rated using the Martindale rub test so that you can gauge their durability before making your selection. This can help you select the right material for the amount of use you expect your sofa to get. In comparison, standard mass market sofas aren't typically rated in terms of durability and feature cheaper fabrics, so they may succumb to wear and tear much faster than you anticipated.
Similarly, opting for a fabric with enhanced sofa stain protection is a great way to extend the life of your sofa. After all, food and drink spills are common in family households, and stains can easily occur on untreated fabrics. However, with FibreGuard or Aquaclean technology, you can rest assured that accidental spillages won't leave any lasting damage. As such, it is usually more beneficial to invest in superior sofa upholstery from the outset, to help save both money and hassle in the long run.
Keen to learn more? Explore a selection of our top-rated sofas and armchairs, including various fabric options, on our website. Alternatively, read about the benefits of choosing a high quality sofa on our blog or contact us regarding our bespoke sofa service and let us help you design the perfect addition to your living room.