About New England Home Interiors

The premier retailer of luxury and bespoke furniture and accessories in Surrey & West Sussex.
Established in Horsham in 2009, New England Home Interiors is a family run business that has been at the forefront of bespoke furniture solutions in the Sussex area for over a decade. Our approach is based on a combined 60 years of home furnishings, interior design and restoration expertise, and an uncompromising commitment to quality.
Our story
Having started out in the international antiques trade in the early 1980s, our founder Jennie Sayer returned to her hometown of Horsham to run a shop selling contemporary furniture in 2001. This established Jennie's reputation in the area as a designer and retailer of luxury furniture, which paved the way for her subsequent endeavour: New England Home Interiors.
Since 2009, the business has grown from its interior design based roots into one of the top luxury furniture suppliers in the region. We constantly adapt our designs to integrate the latest trends, state of the art manufacturing techniques and new technology fabrics, while continuing to promote artisan craftsmanship, classic contemporary styles and a highly personalised service for every customer. Recently, we have also expanded our product portfolio and upgraded our showroom, with Joby Hardman (Jennie's son) now a joint partner.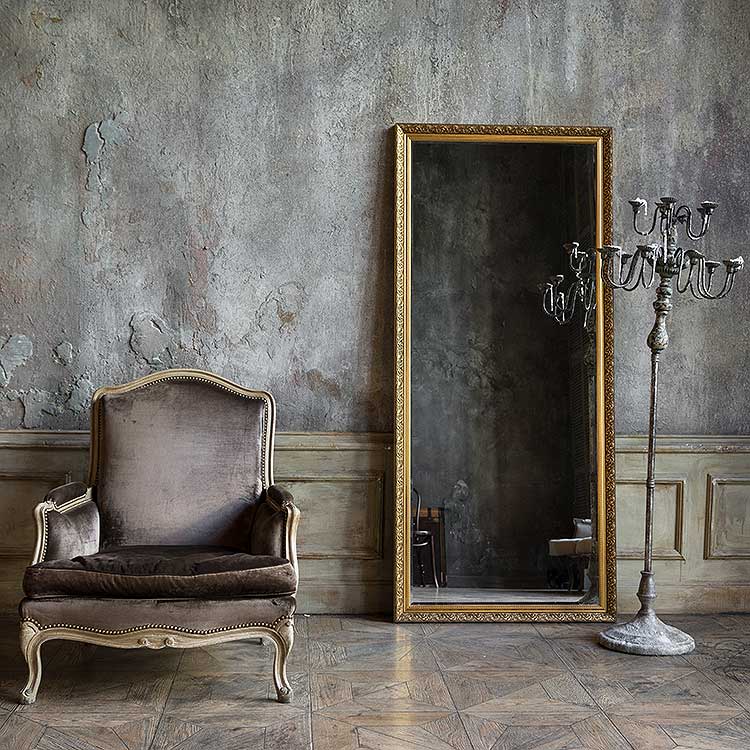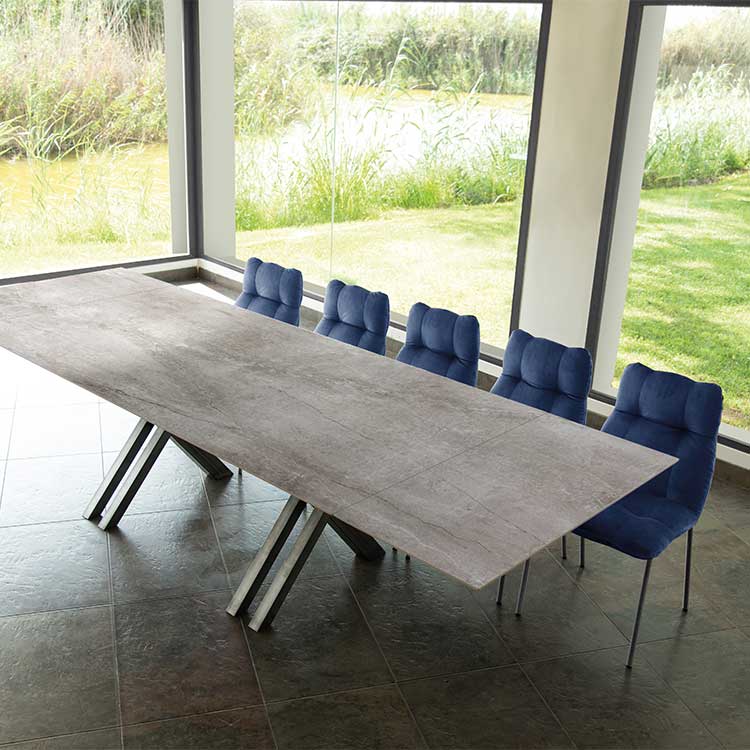 Quality craftsmanship
At New England Home Interiors, our primary aim is to provide heirloom-worthy furniture that is as stylish as it is durable. To do this, we work in partnership with classically trained furniture makers and upholsterers from across the UK and Europe to offer timeless designs with all the benefits of modern materials. This includes hard-wearing, stain-proof fabrics by leading brands like Aquaclean and FibreGuard, and stunning Dekton and ceramic tabletops.
Our talented craftsmen employ time-honoured techniques and unrivalled attention to detail to ensure that all of the products we supply are built to last and will stand up to the rigours of family life. Unlike mass-produced furniture made from flimsy, unreliable materials, furniture designs from New England Home Interiors feature solid wood frames, plush and supportive fillings, and premium fabrics that won't wear out over time. In fact, many of our suppliers are so confident in their products that they provide comprehensive guarantees for added peace of mind.
Bespoke furniture
The newly updated New England Home Interiors collection includes luxury furniture and accessories for every room of the home, alongside a host of fully customisable designs that can be tailored to suit your needs. This includes bespoke sofas, armchairs, footstools and dining chairs, plus made to measure dining tables, side tables, coffee tables and more!
By opting for our bespoke furniture service, you will have the opportunity to choose a custom size and shape for your item to complement your space. You can also select the fabric and colour for the upholstery, the style of the legs and feet, whether you'd like to add castors so you can move your item around freely, and any finishing touches like trims and buttons.
With a myriad of product samples available to view online and in-store, at New England Home Interiors, we really do have something for everyone, from vivid brights to mellow neutrals. We are also an approved retailer for artisan British paint brands Little Greene and Mylands Paint, so you can easily update your interior décor to match your new furniture.
In addition, our experienced team can provide a free home measuring service to make sure your chosen item will fit before you place your order with us. Plus, if you're really stuck for ideas, we can arrange one-to-one interior design consultations for a set fee.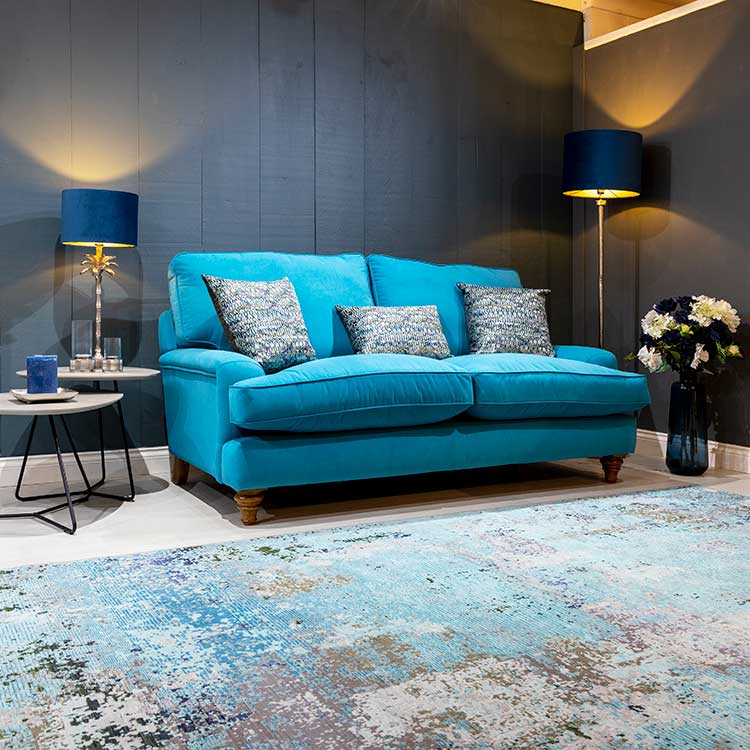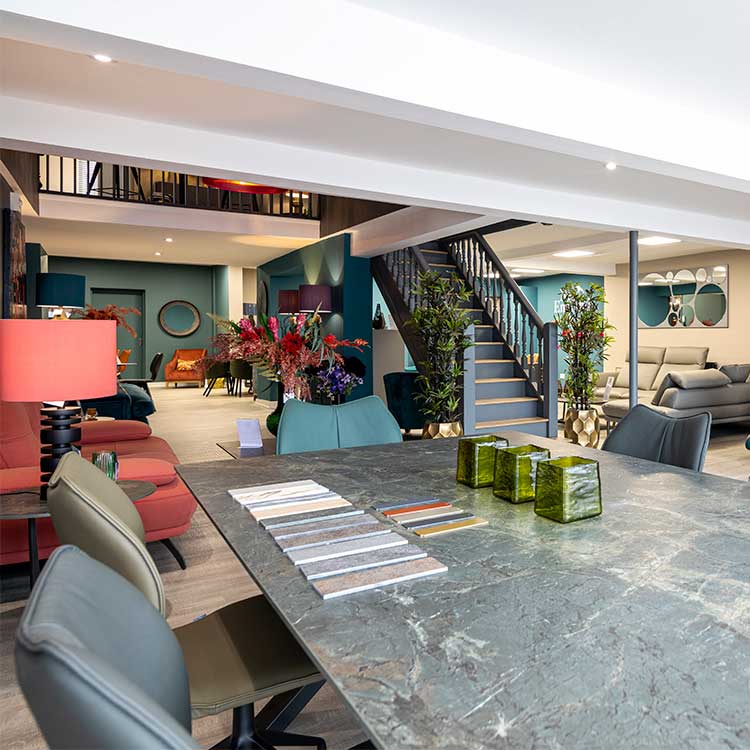 Horsham furniture showroom
Due to increasing demand, we have recently expanded our premises to accommodate a much larger range of furniture, accessories and samples for custom designs. Spanning 6000 square feet in total (4000 more than before!), we have retained the original New England Home Interiors showroom in Horsham and combined it with the building next door.
Over the course of 7 months, we have restored one of the oldest buildings in the town and several of its period features, like the bay windows and inglenook fireplace. And, unlike other featureless furniture stores, the New England Home Interiors showroom interior has been designed to reflect the quality and style of our products and our customers' own home décor.
As well as creating an inviting space to peruse our products at your leisure, this unique setup provides much-needed inspiration and helps you to visualise items in your own home to ensure you choose the best product for you. Our knowledgeable team are also on hand to answer any queries you have about our luxury furniture ranges and bespoke designs. There are no silly questions, so whatever you'd like some help with, please don't hesitate to ask!