Made to Measure Curtains and Blinds
Whether you're looking for a set of made to measure curtains or some extra wide Roman blinds for a particularly substantial window, you've come to the right place. At New England Home Interiors, we supply bespoke curtains and other premium window coverings in a plethora of fabrics, colours and custom sizes to suit your home's unique contours and décor.

Bespoke curtains and window treatments
From classic pencil pleat curtains to contemporary eyelet designs, our luxury curtains range boasts a variety of styles to match your interior theme. We also manufacture less common drapes, such as modern wave, goblet pleat and striking puff ball designs, plus coordinating pelmets and valances to disguise the fixtures.
If you'd like to block out as much light as possible while preventing chilly draughts, heat-retaining thermal blackout curtains can be arranged for both doors and windows. At the other end of the spectrum, you'll find sheer voile panels. These add privacy to your living spaces while allowing light and air to pass through freely – perfect for the warm summer months.
Alternatively, we offer a selection of made to measure Venetian blinds and plush Roman blinds. These tailor-made window treatments come in a choice of string or tape designs, and are ideal for smaller windows. They may also be preferable if you like minimalistic home décor.
Our stylish, moisture-resistant wooden Venetian blinds are ideal for bathrooms and kitchens. Their adjustable, slatted design also allows for greater light control during the daytime, making them an excellent option for home offices. Meanwhile, our luxury Roman blinds with subtle concertina folds filter light and add an elegant touch to bedrooms and lounges.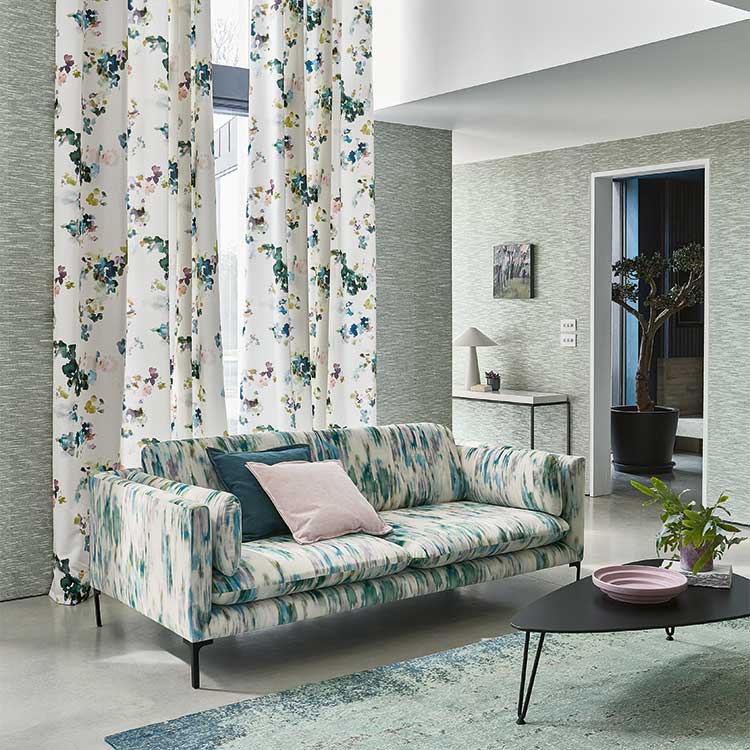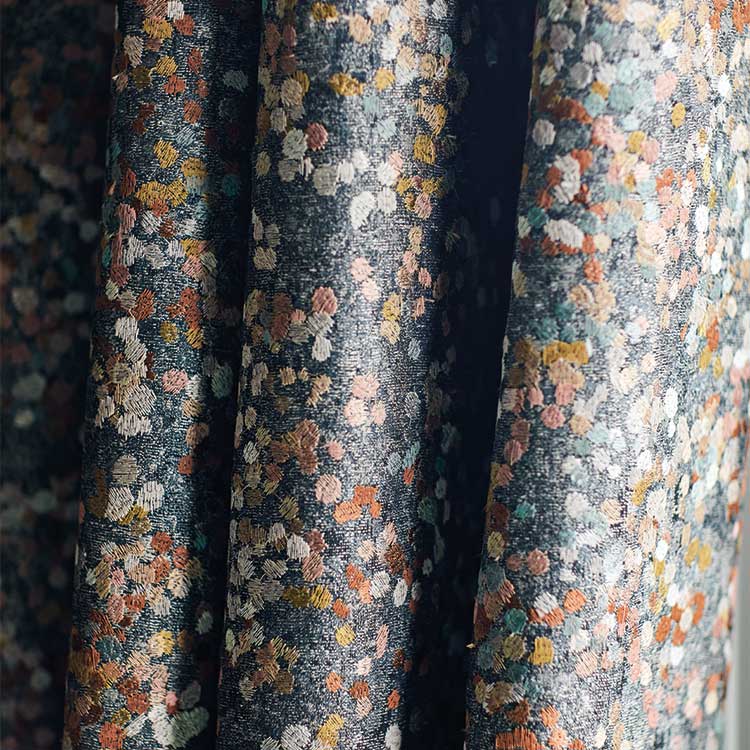 Luxury fabrics for drapes and window coverings
No matter which style you choose, our made to measure curtains and bespoke fabric blinds are available in a wide assortment of fabrics and colours. From neutral slate greys to vivid forest greens and warm ochres, there's a shade to complement your colour scheme. We can even match your curtains to the upholstery of any New England sofa, armchair or footstool to create a cohesive look.
When it comes to selecting the perfect fabric for your preferred window treatments, you'll be even more spoilt for choice. Our vast fabrics range includes thousands of plain, textured and decorative designs by top suppliers like Wemyss and Black Edition and Villa Nova from the exclusive Romo brand.
Choose from natural linens, luxe metallics, plush velvets and more, available in both muted tones and vibrant prints. Linings can also be added to improve the insulative properties of your drapes, while thinner fabric is a chic curtain option that works beautifully alongside blinds.
Looking for low-maintenance bespoke curtains that will stand up to the demands of family life? Then opt for new technology fabrics that are stain-resistant and dirt-repelling by design.
Fabulous local and friendly shop who go out of their way to help. We're happy to research and find what we wanted. First class service and highly recommended.

V. Treherne

The shop has a great display of interior items as well as beautiful furniture. We love the sofa and chairs we bought and were helped greatly by the attention and knowledge of Joby and Jennie.

D. Faithfull

We purchased a dining set and coffee table from New England Interiors. The service from Joby was fantastic and he helped us find exactly what we wanted. The quality of the furniture is outstanding, and we'll certainly be back.

K. Featonby

We popped into New England to look at a sofa and ended up completely furnishing our new home!

C. Allen

We recently purchased a beautiful sofa and chair from New England. I have to say that customer service is second to none.

A. Godfrey

Travelled to the showroom to view a particular corner sofa we had seen on New England's social media, but instantly fell in love with their NEW Washington corner. So much lovely stuff to see

M. Gibson-Brown

Great professional, friendly service from Joby at New England Home Interiors. From visiting the showroom, which is lovely, to purchase, and delivery, communication was very good, and everything went absolutely smoothly. The sofa is a very well-made quality item. I definitely recommend New England Home Interiors.

S. Drake

Platinum Service from start to finish. Any queries or issues dealt with immediately and professionally. Highly recommended.

I. Chance

Jennie and the team were brilliant from start to finish, and my sofa looks wonderful. Thanks again.

O. Nightingall

Wonderful service and products. We have purchased Sofas, ceramic side tables and a brilliant Fenix surfaced dining room table and are super happy with all of them. Excellent, knowledgeable and careful service

N. Bennett

Got a gorgeous lamp from New England Home Interiors and the quality of it is exceptional. Really beautiful. I love it. Very professional as a company too, highly recommend

Jenny S

Excellent store. Friendly knowledgeable couple, attentive and informative to guide you through the beautiful range of their excellent quality products.

Adrian B

A great company to deal with, quality products backed by a fantastic and friendly professional service. They have a genuine passion for their business and their customers and I'm sure we will be returning time and time again.

Mike G

We are delighted with how Jennie has furnished our home. A real professional. Thank you .

Kamal K

New England Home is the most beautiful interior showroom around by far, perfect for finding little gems, gifts for love ones, treats for your home and the most stunning luxurious bespoke furniture. Extremely happy with all my purchases over the years. The staff are incredibly knowledgeable and have the best visions, always going one step further to help.

Abby P

Fantastic service from start to finish throughout the process, to the on time delivery of our bespoke corner sofa. True professionals and superb quality. Absolutely delighted with the sofa, thanks guys.

Paul PH

Love this shop the staff are always very helpful and polite. So many options in store for me to look at for my newly purchased property. Joby is very patient and always helps me with my decisions. I will be back soon and would recommend to others. Great service and great products. Joby is very knowledgeable and pays excellent attention to detail.

Daniel B

A wonderful shop with fantastic customer service from start to finish with a care and attention to the smallest details. New England have transformed our house into a beautiful and comfortable home, thank you

Sarah M
Custom curtain poles and accessories
To accompany our made to measure curtains, we also stock a myriad of hand-made accessories. This includes tiebacks to keep your drapes neat when drawn, as well as tracks to accommodate pleated curtains with hooks. Tracks are available with or without string pulls to aid opening and closing, depending on your preference.
Alternatively, if you've opted for eyelet style curtains, we have a host of wood and metal curtain poles to browse. Explore round and rectangular designs in brass, silver, black or chrome finishes, with a multitude of finials to suit your taste. We can even supply custom-bent poles and tracks to fit curved and bay windows exactly – a specialist service that most standard retailers are unable to offer.
In addition, we can source the latest metropole designs for you too. These innovative curtain poles feature a concealed groove with built-in gliders, eliminating the need for rings or hooks. Instead, the curtains simply clip into place so you can benefit from a smoother opening and closing mechanism and concealed fixtures. Metropole rails can also be ceiling mounted to create the illusion of floating curtains – a modern twist that looks great with floor length styles.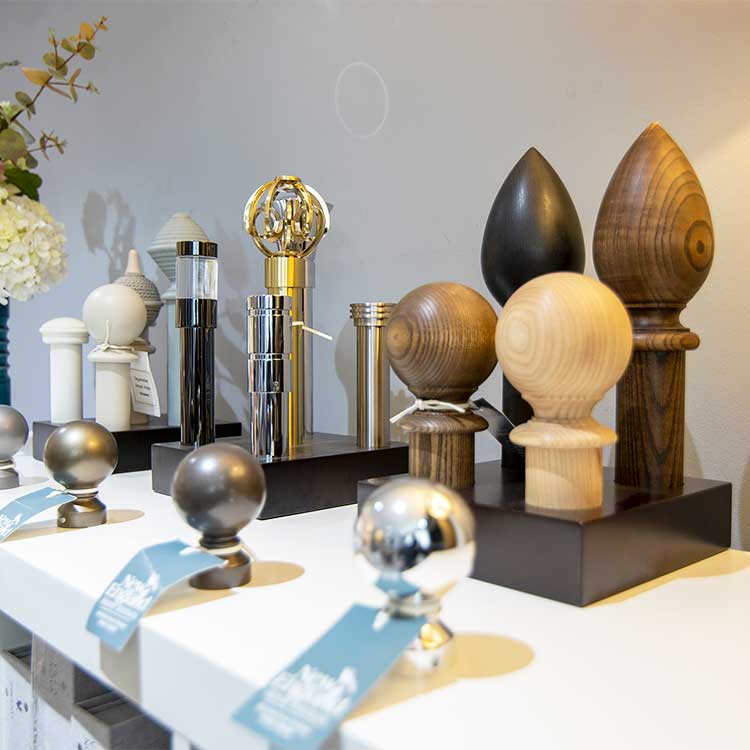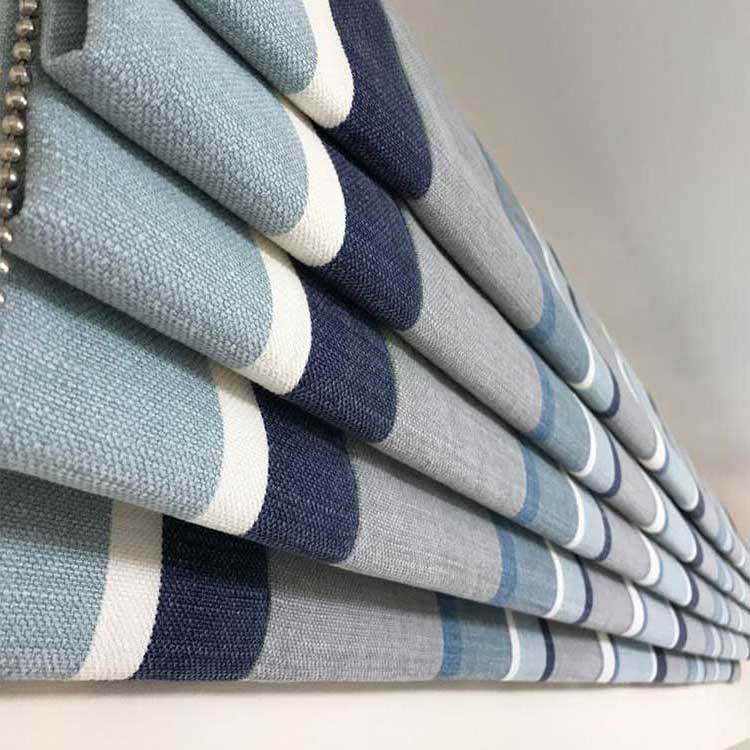 How to order made to measure curtains and blinds from us
If you're thinking of investing a set of wooden Venetian blinds or made to measure curtains from New England Home Interiors, why not make the most of our free home visit? Before placing an order with us, a member of our experienced design team will visit your home to take measurements and discuss the best options for your space.
They'll also introduce you to a selection of possible fabrics and colours, and provide a price for both the manufacture and the installation of curtains, blinds and poles as required. That way, you'll know exactly what to expect before proceeding. Alternatively, if you'd rather fit the window coverings yourself, our custom products are available on a supply-only basis too.
Of course, you can always visit our interiors and furniture showroom in person and view our full library of fabric samples alongside complementary furniture and accessories for inspiration. Our staff will also be on hand to provide advice as needed. They can also arrange a home visit or place an order there and then for you, provided you bring accurate measurements along with you.
Either way, you can expect your bespoke curtains or luxury Roman blinds to be ready in around 8-10 weeks. Meanwhile, lead times on made to measure Venetian blinds are slightly quicker at around 4 weeks, and curtain poles can be supplied within a fortnight.