Bespoke sofas & armchairs just for you
At New England Home Interiors, luxury made to measure and bespoke sofas and armchairs are our speciality.  Whether you are looking something contemporary or a timeless classic, we can produce bespoke sizes and offer an unrivalled choice of luxury fabrics and fillings. We will create the perfect sofa or armchair just for you.

Unrivalled craftsmanship and quality construction
Our bespoke sofas are handmade in the UK and Europe to a high standard. This includes employing tried and tested construction methods to create a sturdy hardwood frame with joints that slot neatly together before being screwed in place for maximum strength. In fact, since we don't use any flimsy MDF or nails, we are happy to guarantee our frames for life.
Handmade to order, each made to measure sofa also benefits from high-quality features like steel sprung bases and supportive foam cushioning that won't sag or lose shape over time. As such, your new sofa or armchair will continue to look and feel fantastic for many years.
Better still, all classic and new technology fabrics used to cover our sofas boast a high Martindale rating. In layman's terms, this means that your upholstery will have superior wear resistance compared to standard designs – ideal if you have pets or your sofa is used daily.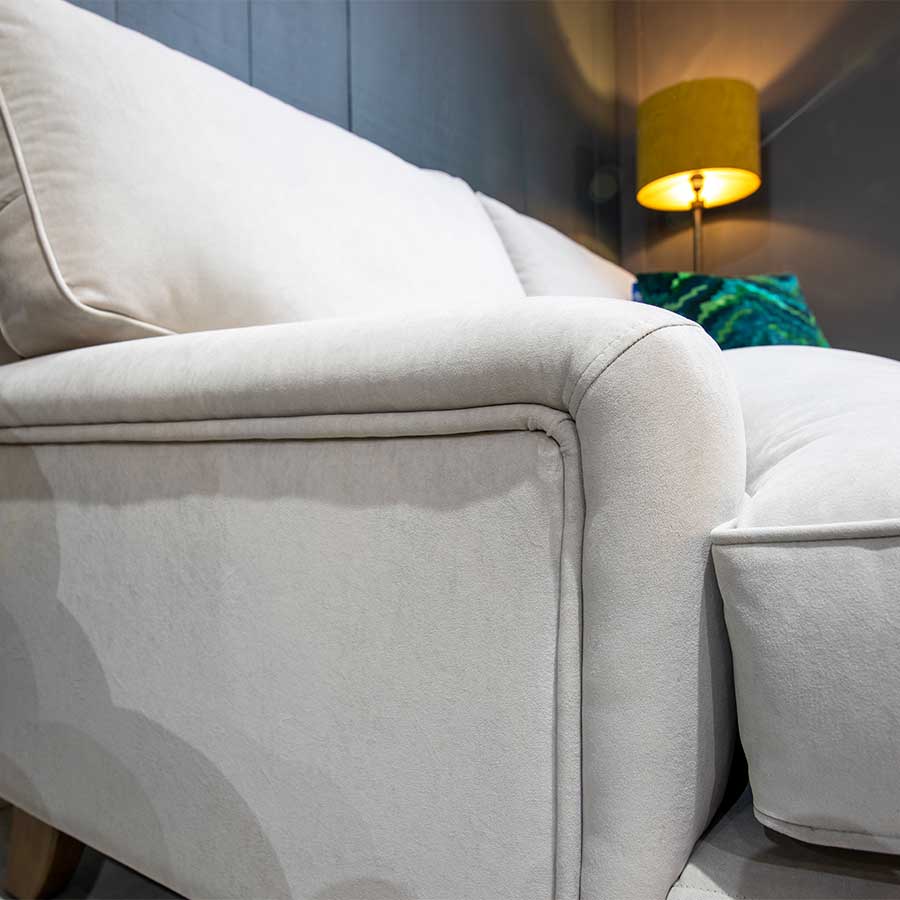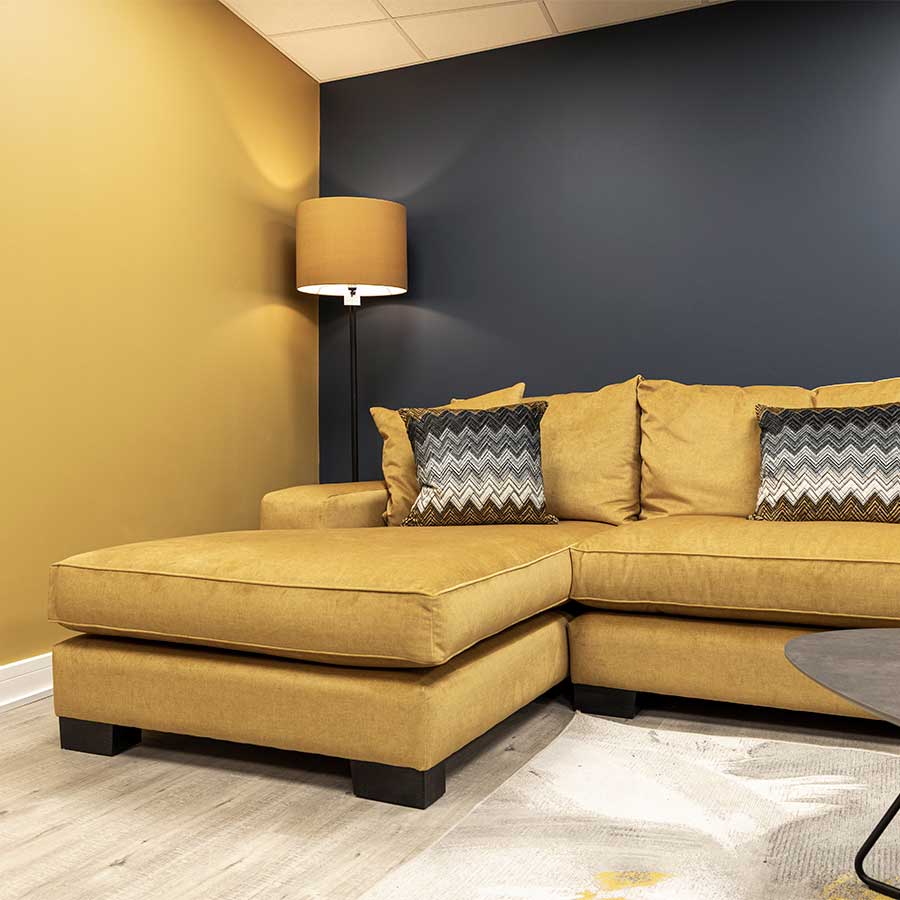 Custom made sofas in all shapes and sizes
Whatever room you're looking to furnish, we can design bespoke sofas of any shape, size and configuration to fit. From two and three-seater styles for your lounge to extra large sofas for cosying up in your home cinema room, we will bring your preferred seating to fruition.
Alongside our standard sofas, we offer L-shaped sofas with either a left or right-hand corner to suit your space. Likewise, due to the sectional nature of these designs, we can provide double corner sofas too. These unique U-shaped sofas enable two people to put their feet up at once and are a great alternative to a recliner, with room for a coffee table in the middle.
In addition, we can provide matching armchairs and footstools to complete your living room. And, if you're not sure which size or style to go for, our bespoke sofa service includes a free home visit to help you measure up and discuss your options.
Fabulous local and friendly shop who go out of their way to help. We're happy to research and find what we wanted. First class service and highly recommended.

V. Treherne

The shop has a great display of interior items as well as beautiful furniture. We love the sofa and chairs we bought and were helped greatly by the attention and knowledge of Joby and Jennie.

D. Faithfull

We purchased a dining set and coffee table from New England Interiors. The service from Joby was fantastic and he helped us find exactly what we wanted. The quality of the furniture is outstanding, and we'll certainly be back.

K. Featonby

We popped into New England to look at a sofa and ended up completely furnishing our new home!

C. Allen

We recently purchased a beautiful sofa and chair from New England. I have to say that customer service is second to none.

A. Godfrey

Travelled to the showroom to view a particular corner sofa we had seen on New England's social media, but instantly fell in love with their NEW Washington corner. So much lovely stuff to see

M. Gibson-Brown

Great professional, friendly service from Joby at New England Home Interiors. From visiting the showroom, which is lovely, to purchase, and delivery, communication was very good, and everything went absolutely smoothly. The sofa is a very well-made quality item. I definitely recommend New England Home Interiors.

S. Drake

Platinum Service from start to finish. Any queries or issues dealt with immediately and professionally. Highly recommended.

I. Chance

Jennie and the team were brilliant from start to finish, and my sofa looks wonderful. Thanks again.

O. Nightingall

Wonderful service and products. We have purchased Sofas, ceramic side tables and a brilliant Fenix surfaced dining room table and are super happy with all of them. Excellent, knowledgeable and careful service

N. Bennett

Got a gorgeous lamp from New England Home Interiors and the quality of it is exceptional. Really beautiful. I love it. Very professional as a company too, highly recommend

Jenny S

Excellent store. Friendly knowledgeable couple, attentive and informative to guide you through the beautiful range of their excellent quality products.

Adrian B

A great company to deal with, quality products backed by a fantastic and friendly professional service. They have a genuine passion for their business and their customers and I'm sure we will be returning time and time again.

Mike G

We are delighted with how Jennie has furnished our home. A real professional. Thank you .

Kamal K

New England Home is the most beautiful interior showroom around by far, perfect for finding little gems, gifts for love ones, treats for your home and the most stunning luxurious bespoke furniture. Extremely happy with all my purchases over the years. The staff are incredibly knowledgeable and have the best visions, always going one step further to help.

Abby P

Fantastic service from start to finish throughout the process, to the on time delivery of our bespoke corner sofa. True professionals and superb quality. Absolutely delighted with the sofa, thanks guys.

Paul PH

Love this shop the staff are always very helpful and polite. So many options in store for me to look at for my newly purchased property. Joby is very patient and always helps me with my decisions. I will be back soon and would recommend to others. Great service and great products. Joby is very knowledgeable and pays excellent attention to detail.

Daniel B

A wonderful shop with fantastic customer service from start to finish with a care and attention to the smallest details. New England have transformed our house into a beautiful and comfortable home, thank you

Sarah M
Bespoke sofas tailored to your comfort
As well as enabling you to adapt the shape and overall size of the design, our made to order sofas go one step further. Every element, from the firmness of the cushions to the height of your chair back, can be customised to meet your individual requirements.
For example, if you're tall, a higher backrest will likely be more comfortable when sitting for a prolonged period of time. Meanwhile a shorter seat pad can benefit those of smaller stature, ensuring the correct posture with your feet flat on the floor. These adjustments will make your sofa or armchair more ergonomic, plus seats can be widened for broader shoulders too.
Furthermore, you can tailor the firmness of the cushions for optimal comfort, much like you can when choosing a mattress for your bed. Whether you'd like a sumptuous down filling or a more supportive foam, the choice is yours. You can even opt for a blend of both or pair foam seat pads with plush feather backrests for the best of both worlds.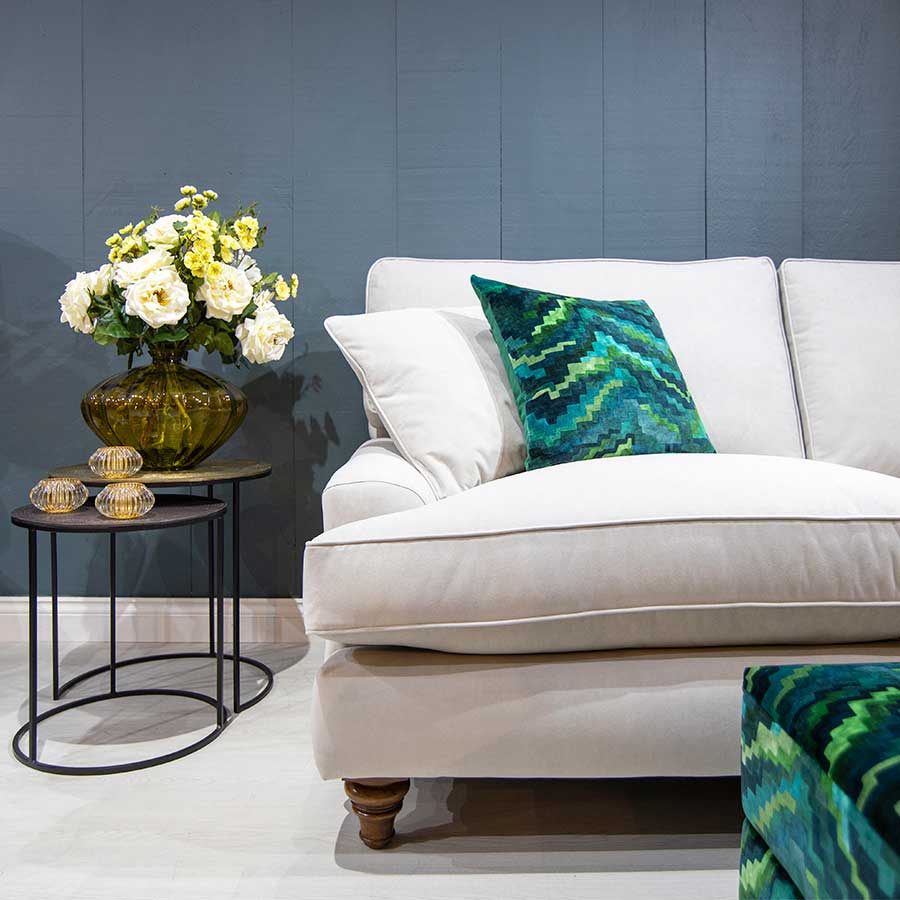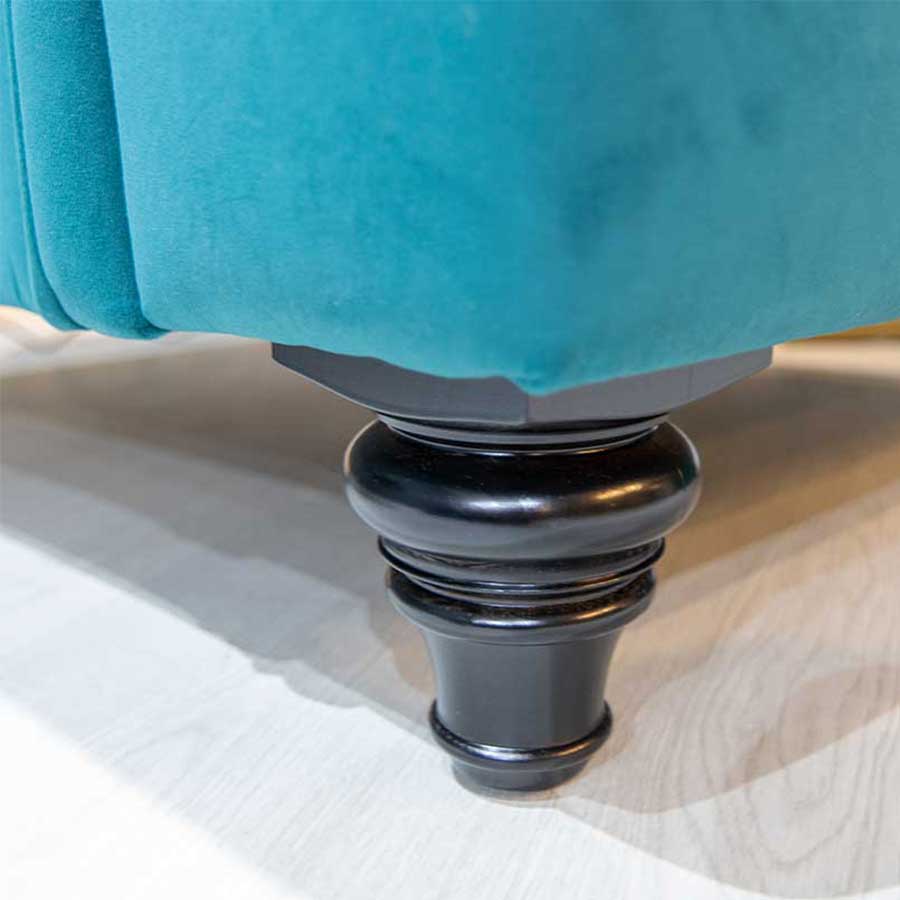 Numerous upholstery and feet options
At New England Home Interiors, we offer a comprehensive range of high quality, durable fabrics to finish your bespoke sofa. This includes luxury velvets, soft leathers, hardwearing cottons, chic satins and more. Each one is available in a wide variety of colours from slate grey to kingfisher blue, so you'll have no problem finding a shade to match your interiors.
Besides our library of standard fabrics, we also have access to some of the latest new technology fabrics such as Aqua Clean and FibreGuard. Stain-resistant and water-repellent, these clever upholstery options are designed to withstand the day-to-day wear and tear of everyday family life and keep your sofa looking as fresh as the day it was delivered. Plus, due to their practically impenetrable fibres, they minimise the risk of allergies and odours too.
Other customisation options include piped trims, buttons and stud detailing upon request, plus a host of feet styles to choose from. From sleek metal or wooden legs in your preferred colour or stain, to castors and gliders for easy movability, there's something for everyone.
More about our bespoke sofas & armchairs
Once you've placed your order in store or via email, the lead-time will be confirmed – typically 12-15 weeks. When your item is ready for delivery, we will contact you to arrange the best time.
As part of our custom made sofas service, we also offer placement to a room of your choosing, plus assembly by our trained logistics team as required. Additionally, we will unwrap your item for you and take the packaging away with us for recycling to make your life easier.
The robust materials and reliable construction methods used to create our bespoke sofas allow the manufacturers to provide comprehensive guarantees. While exact terms may vary slightly, the majority of our sofas include a lifetime guarantee on the frame and 10 years on springs and coils.
Fabrics, on the other hand, each carry their own guarantee. However, all exceed commercial Martindale ratings for durability and wear resistance. As a result, they will last considerably longer than standard materials, even in high traffic areas and busy family homes with pets.
Need some help with design ideas? Visit our recently renovated showroom in Horsham to explore our full catalogue of fabric samples to help you visualise your final choice. You can also view our standard models on display and try out the different types of cushions. Or if you opt for a home visit, our designers can provide some helpful suggestions for you then. Alternatively, we can send fabric samples via post to wherever you're based in the UK. Just send us an email!