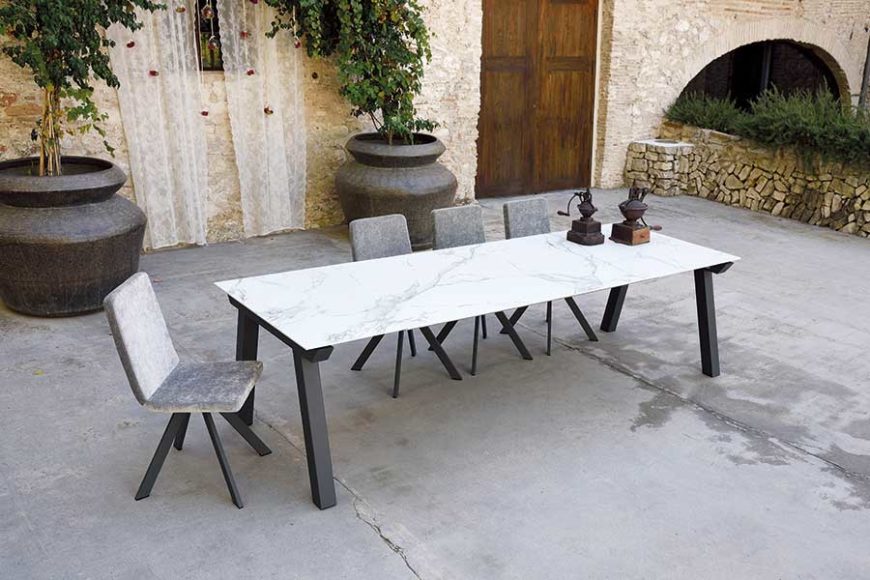 At New England Home Interiors, we pride ourselves on supplying quality furniture for every room in your home. So, when it comes to durable and stylish tables that are built to last, you needn't look any further.
We've partnered with leading furniture designers to bring you high performance Dekton tables that are as attractive as they are strong. If you've never come across Dekton furniture before and want to learn more about this innovative material, keep reading. We'll also introduce you to some of our most popular products for inspiration.
What is Dekton?
Made in Spain by Cosentino, Dekton combines porcelain, quartz stone and glass to create an incredibly robust and attractive, composite material suitable for tabletops, work surfaces, wall cladding and flooring.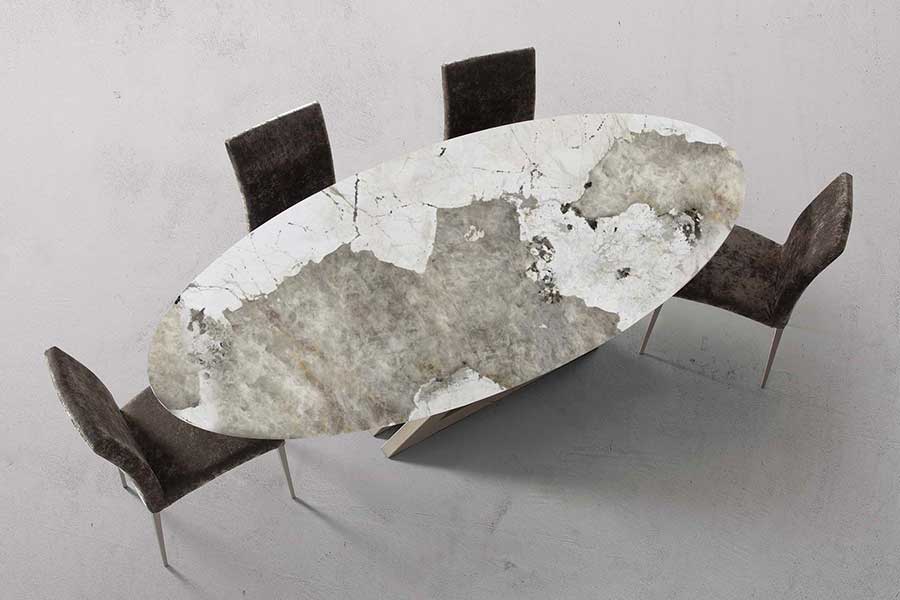 How is Dekton Made?
The production process involves compressing the base materials under immense pressure to fuse the particles together and create one solid piece. This mimics the metamorphic transformation that natural stone encounters over millennia, but at a much faster rate. The result – a dense, high-strength material known as Dekton.
Once pressed, this amazing material can be decorated with a variety of colours, natural material prints and finishes. The colour or design is digitally printed onto the surface and baked into the material at a high temperature for unparalleled durability.
5 key features that make Dekton ideal for tables
1. Scratch resistant
Dekton countertops are popular in kitchens due to their impressive scratch resistance even when faced with sharp knives. This feature also makes this wonder material ideal for dining and coffee tables that seat crockery, liquids and other items that could mark more delicate surfaces.
2. Heat resistant
Dekton dining tables are also highly resistant to extreme temperatures. As a result, you can place hot casserole dishes and even pans straight onto the tabletop without charring or warping the material. Conversely, Dekton surfaces aren't fazed by chilly ice buckets either.
3. Impact and abrasion resistant
Given its density, Dekton withstands impact very well. Each sheet of this cutting edge material is one solid piece, so there are no joints that could separate or crack if something hits or is dropped on it. The surface is also resistant to abrasion – ideal for family households where scuffs are likely.
4. Non-porous and easy to clean
Unlike many natural stone models, Dekton tables are non-porous and impervious to water and other liquids. This means they're very hygienic, stain resistant and low maintenance. Dekton can be cleaned with soap and water, and won't need resealing like granite or marble.
5. Highly resistant to UV light
Finally, Dekton is perfect for tabletops that are likely to come into contact with direct sunlight. This is due to its mighty UV resistance, which ensures the embedded colouring won't fade over time. As such, you can place your table wherever you like – indoors or out!
Discover the Dekton furniture range at New England
No matter which kind of table you're looking for, at New England Home Interiors, we have a range of luxury Dekton furniture in over 20 different finishes to suit your needs. This includes solid colours, as well as mock stone and marble effect designs. We can even help you colour match your new table with your existing Dekton worktops for a cohesive look.
From slimline console tables for hallways to indestructible Dekton dining tables for chaotic family mealtimes, explore some of our bestselling models below.
Dining tables
Sturdy and stylish, our versatile Dekton dining table range features eight models, including round, rectangular and oval designs in an array of different sizes. For larger families, the popular Dakota dining table is a great choice, with an extendable leaf that can be pulled out to increase its capacity for special occasions.
Better yet, the extendable section is mounted on wheels at the base of the legs for seamless manoeuvrability and no heavy lifting. The steel frame also features cleverly inverted U-shape legs for extra space underneath – particularly useful when seating sizeable groups.
For more intimate gatherings, opt for the round Cleveland dining table with a contemporary pedestal-style base. You can then tailor the Dekton surface and metal frame with a custom colour combination that will complement your décor. On the other hand, a polished faux marble top like the Aura or Entzo will ensure maximum impact even in small dining rooms.
In need of dining chairs to complete the set? Browse our entire range of ergonomic, upholstered chairs online to find the perfect match.
Console tables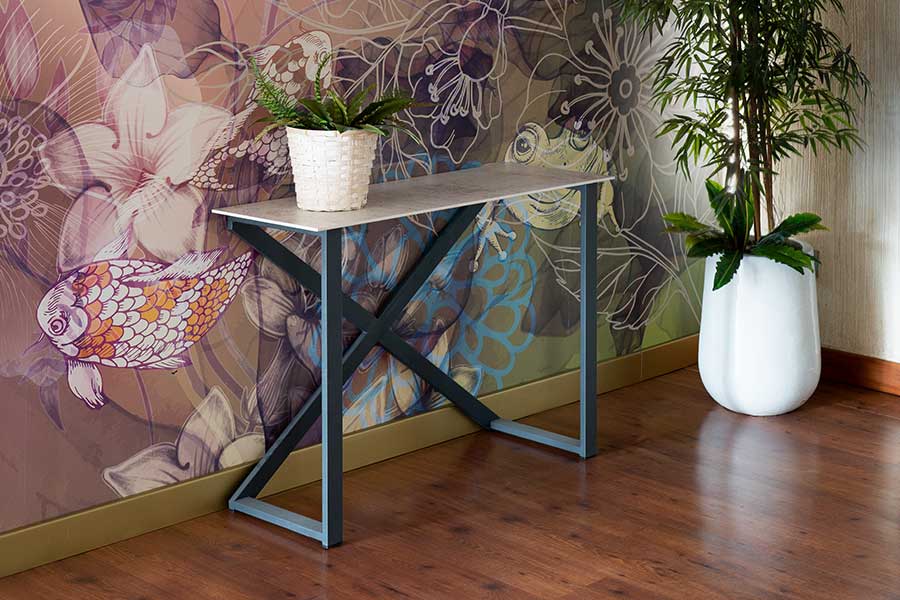 Available in two styles and three different widths, our Dekton console tables are perfect for providing additional storage and display space in hallways and living rooms. The Portland console design is chic and minimalistic, making it perfect for compact spaces. It also comes with a handy built-in shelf for storing loose odds and ends just below the main tabletop.
For a bolder look, our sleek Buffalo console table with 8mm Dekton top features an eye-catching cross-legged design. This quirky statement piece will suit any modern interior and add visual interest to the room without taking up unnecessary space.
Coffee tables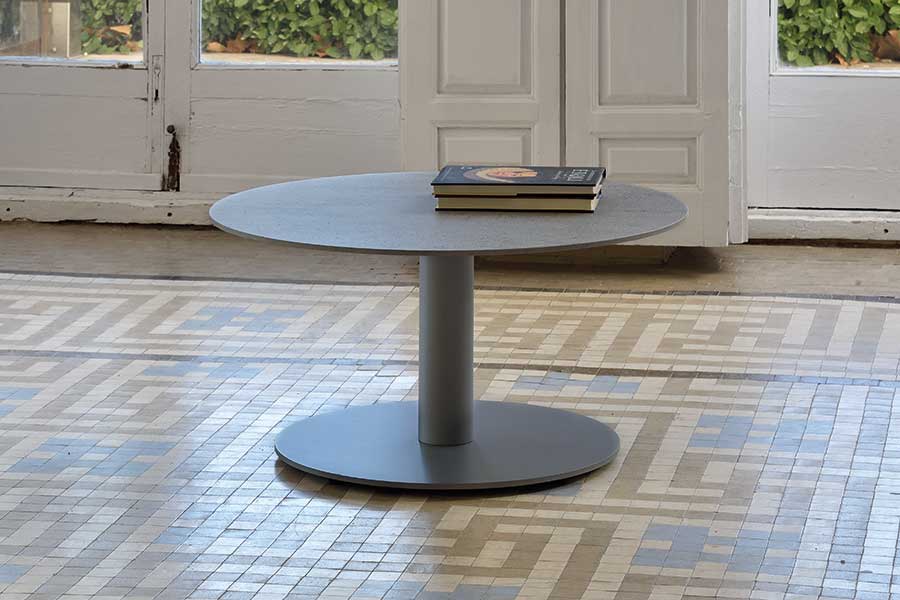 If you're after somewhere to place your afternoon coffee or your glass of wine and nibbles on an evening, our Dekton coffee tables should be right up your street. With two different designs and various shapes and sizes to choose from, there's something for every space.
The Iowa coffee table boasts simple styling that will slot effortlessly into any living room theme. Available in a square or rectangular configuration, this Dekton table is also incredibly robust, with the option to add a storage shelf at the bottom for magazines, remotes and more.
Alternatively, the Washington round coffee table features a unique tubular base for an industrial look that is right on trend. This streamlined design can also be customised to a height that suits your sofa or even taller for use as a bistro table.
Find your perfect Dekton table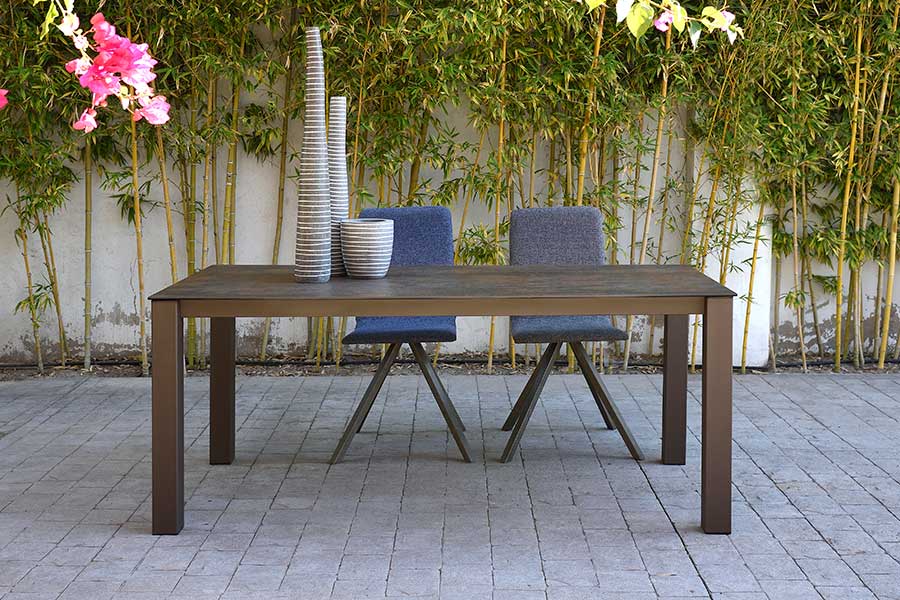 Whichever model you choose, you can rest assured that every Dekton table in our range offers long-lasting durability and stain resistance that will withstand the rigours of family life for years to come.
Not sure which table is best for your space? Our expert interior designers can offer personal consultations and home visits to help you make the right choice. Contact us to learn more.