Here at New England Home Interiors, we absolutely love Dekton which is why we have hand selected a range of fantastic Dekton dining tables and coffee tables to give you the ultimate option for both style and durability.
What is Dekton?
Manufactured exclusively by Cosentino in Spain, Dekton is indeed a very special material, it is formed using Sinterized Particle Technology which essentially replicates the process of metamorphosis in stone that takes place through thousands of years of exposure to extreme heat and pressure. This process creates an ultra-compact surface, manufactured from a complex mix of raw materials which includes glass, quartz and porcelain that have been fused together under extreme heat without melting and then put through a 25,000 kilo press to create one solid piece. The finished product being an extremely high-quality, durable finished product.
It possesses a number of key characteristics that make it suitable for use both indoors and outdoors. The most commonplace applications for Dekton have been for use in kitchens for cladding and worktops however bathroom walls, floors and countertops are also very popular choices for the material.
In more recent years however Dekton has been used as dining table and coffee tabletops. The fantastic durability and striking designs that Dekton offers can now be replicated in stunning one-off pieces in other areas of the home. With are over 50 styles available both in matt and polished finishes that replicate both natural materials such as stone and marble as well as man-made beautifully striking designs there is something for everyone's taste and décor.
Reasons to choose a Dekton dining table
Wear Resistance – Dekton is incredibly hard wearing and durable, it is in-fact more resistance to abrasion than even granite. It is so tough it can even be used even for flooring outside and will never wear out
Highly scratch resistant – One of the most impressive benefits, with its high resistance to scratches normal day to day use will not mark the surface, even kitchen utensils such as knives will not affect it meaning you can even use the surface as a cooking preparation for cutting vegetables for example
Highly stain resistant – There is no need to worry from day-to-day wear and tear, Dekton is a highly durable surface so accidental stains and spills can be easily wiped and cleaned away
Highly tolerant to heat – Another great benefit, Dekton has a very high tolerance to heat meaning there is no need to worry placing hot pots and pans directly onto the surface, no damage will occur
Resistant to cold – Dekton has a high resistance to extremely cold temperatures, even ice, making it compatible for use in outdoor applications if required
High UV resistance – Dekton has a high resistance to UV rays meaning that whether used inside or outside the finish of the Dekton will not fade and change over time meaning your chosen piece will look as vibrant as the day you purchase it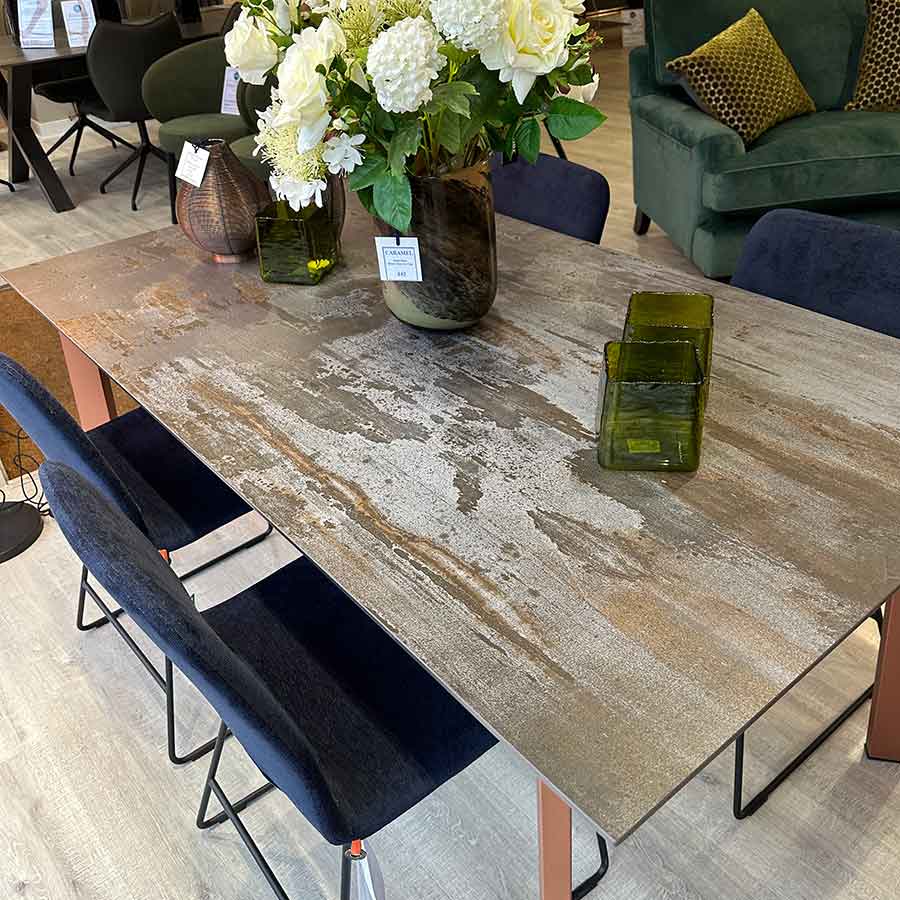 Fabulous local and friendly shop who go out of their way to help. We're happy to research and find what we wanted. First class service and highly recommended.

V. Treherne

The shop has a great display of interior items as well as beautiful furniture. We love the sofa and chairs we bought and were helped greatly by the attention and knowledge of Joby and Jennie.

D. Faithfull

We purchased a dining set and coffee table from New England Interiors. The service from Joby was fantastic and he helped us find exactly what we wanted. The quality of the furniture is outstanding, and we'll certainly be back.

K. Featonby

We popped into New England to look at a sofa and ended up completely furnishing our new home!

C. Allen

We recently purchased a beautiful sofa and chair from New England. I have to say that customer service is second to none.

A. Godfrey

Travelled to the showroom to view a particular corner sofa we had seen on New England's social media, but instantly fell in love with their NEW Washington corner. So much lovely stuff to see

M. Gibson-Brown

Great professional, friendly service from Joby at New England Home Interiors. From visiting the showroom, which is lovely, to purchase, and delivery, communication was very good, and everything went absolutely smoothly. The sofa is a very well-made quality item. I definitely recommend New England Home Interiors.

S. Drake

Platinum Service from start to finish. Any queries or issues dealt with immediately and professionally. Highly recommended.

I. Chance

Jennie and the team were brilliant from start to finish, and my sofa looks wonderful. Thanks again.

O. Nightingall

Wonderful service and products. We have purchased Sofas, ceramic side tables and a brilliant Fenix surfaced dining room table and are super happy with all of them. Excellent, knowledgeable and careful service

N. Bennett

Got a gorgeous lamp from New England Home Interiors and the quality of it is exceptional. Really beautiful. I love it. Very professional as a company too, highly recommend

Jenny S

Excellent store. Friendly knowledgeable couple, attentive and informative to guide you through the beautiful range of their excellent quality products.

Adrian B

A great company to deal with, quality products backed by a fantastic and friendly professional service. They have a genuine passion for their business and their customers and I'm sure we will be returning time and time again.

Mike G

We are delighted with how Jennie has furnished our home. A real professional. Thank you .

Kamal K

New England Home is the most beautiful interior showroom around by far, perfect for finding little gems, gifts for love ones, treats for your home and the most stunning luxurious bespoke furniture. Extremely happy with all my purchases over the years. The staff are incredibly knowledgeable and have the best visions, always going one step further to help.

Abby P

Fantastic service from start to finish throughout the process, to the on time delivery of our bespoke corner sofa. True professionals and superb quality. Absolutely delighted with the sofa, thanks guys.

Paul PH

Love this shop the staff are always very helpful and polite. So many options in store for me to look at for my newly purchased property. Joby is very patient and always helps me with my decisions. I will be back soon and would recommend to others. Great service and great products. Joby is very knowledgeable and pays excellent attention to detail.

Daniel B

A wonderful shop with fantastic customer service from start to finish with a care and attention to the smallest details. New England have transformed our house into a beautiful and comfortable home, thank you

Sarah M