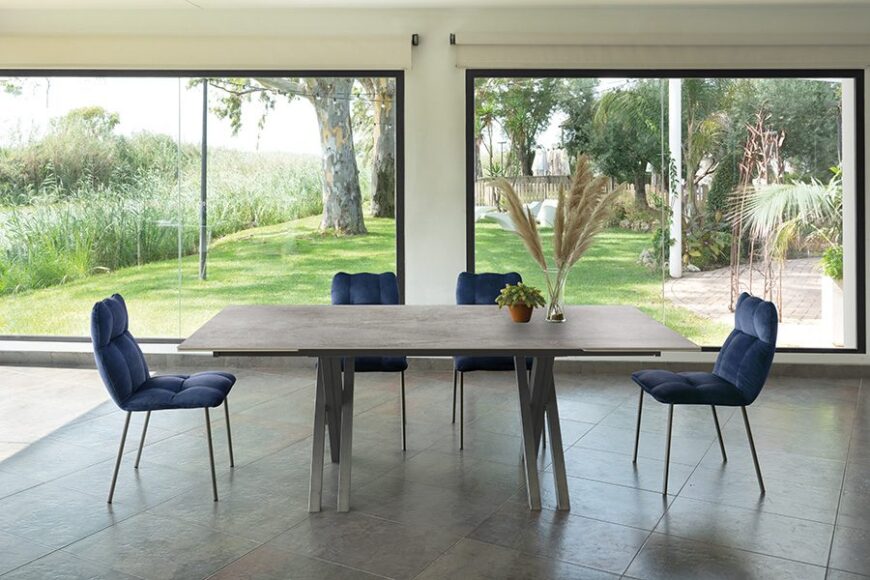 Searching for a durable yet attractive dining table that will withstand the wear and tear of busy family life? Then look no further. Sintered stone dining tables are some of the strongest models available and their natural stone effect finish is truly timeless. Haven't heard of sintered stone before and want to know more? Learn all about this innovative material, including its advantages for dining rooms and the designs offered by New England, below.
What is sintered stone?
Sintered stone is a manufactured yet natural stone product created by fusing multiple minerals together using heat and immense pressure. This results in hardwearing, non-porous composite stone slabs that are surprisingly lightweight and extremely robust. They are stronger than ceramic alternatives and free from the health-harming silica found in engineered quartz.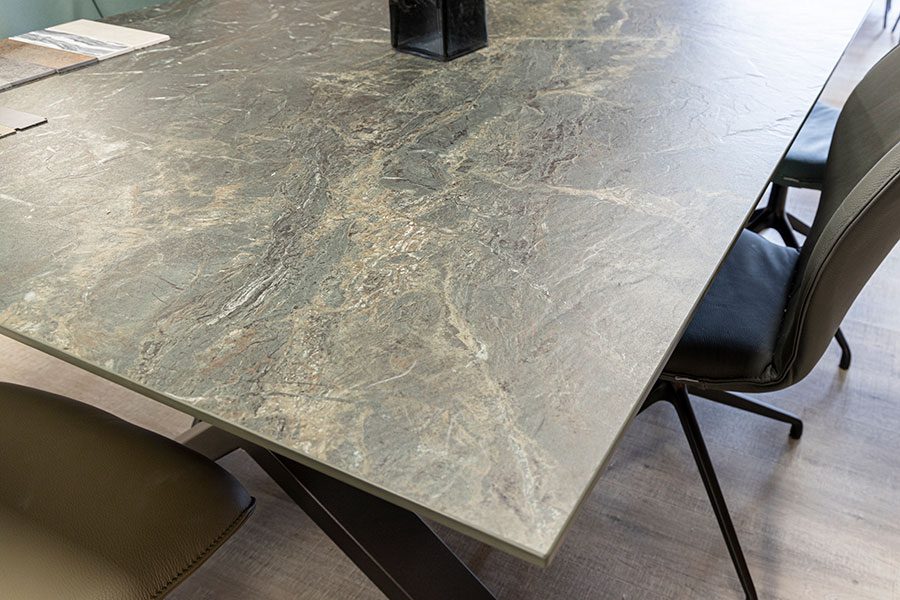 Sintered stone can be used for a range of applications, especially in kitchens and bathrooms. From floor tiles to countertops and sintered stone dining tables, the possibilities are endless. Better still, with numerous finishes, you can be sure there will be one to complement your colour scheme and chosen style. The final look is entirely up to you!
The benefits of choosing a sintered stone dining table
Highly durable
As mentioned above, one of the key benefits of sintered stone tables is their strength. Unlike ceramic which may chip if impacted and can be scratched (think cutlery and shuffling plates), sintered stone is practically indestructible. It can also be used in outdoor settings and yet, it is considerably cheaper than natural granite which is comparatively durable. On top of that, sintered stone is much more practical and easier to position due to being significantly lighter.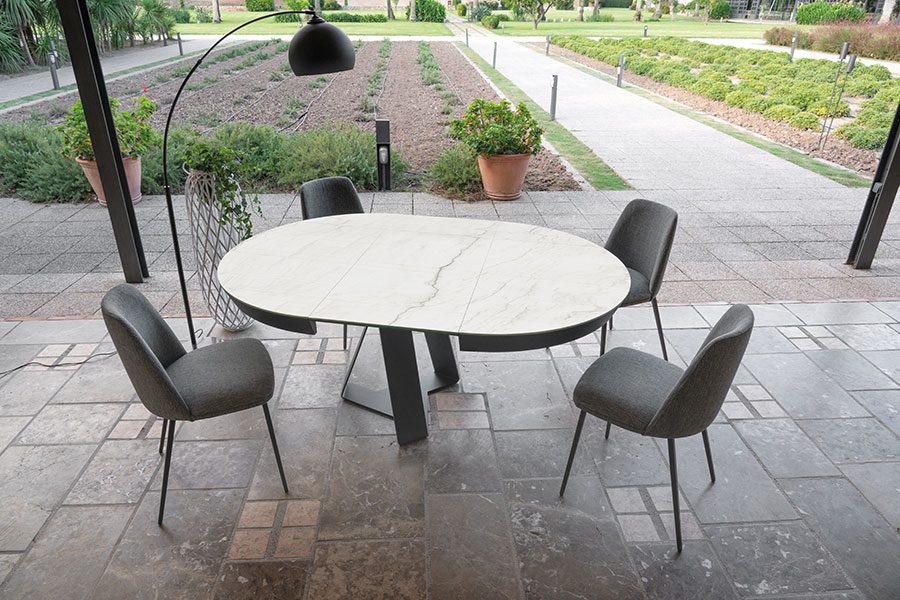 Heat resistant
As well as being scratch and chip resistant, sintered stone can also withstand intense heat. With that in mind, if you forget the placemats and place a hot pan directly onto the surface, you won't need to worry about marring it. Meanwhile, ceramic and other materials may crack, flake or even become discoloured if exposed to high temperatures. In addition, sintered stone tables can be used outdoors without being affected by the sun's UV rays.
Stain resistant
Another advantage of opting for sintered stone dining tables is their stain resistance. Just like glazed ceramics, sintered stone is non-porous and won't absorb liquid spills or collect bacteria. Perfect if you have young children who enjoy messy eating! And although these materials are on par in their ability to withstand stains, sintered stone has the edge again. The difference being that it doesn't require sealing in order to be completely waterproof.
Luxurious finish
While natural stone may exhibit natural imperfections and uneven textures, sintered stone table designs are printed onto the  surface using HD technology. This offers a more uniform look, while replicating the appearance of natural stone, timber and more as desired. You also have the option of a matte or polished, glossy finish, depending on what you prefer. Plus, you can benefit from a stylish granite or marble effect table without the high price tag.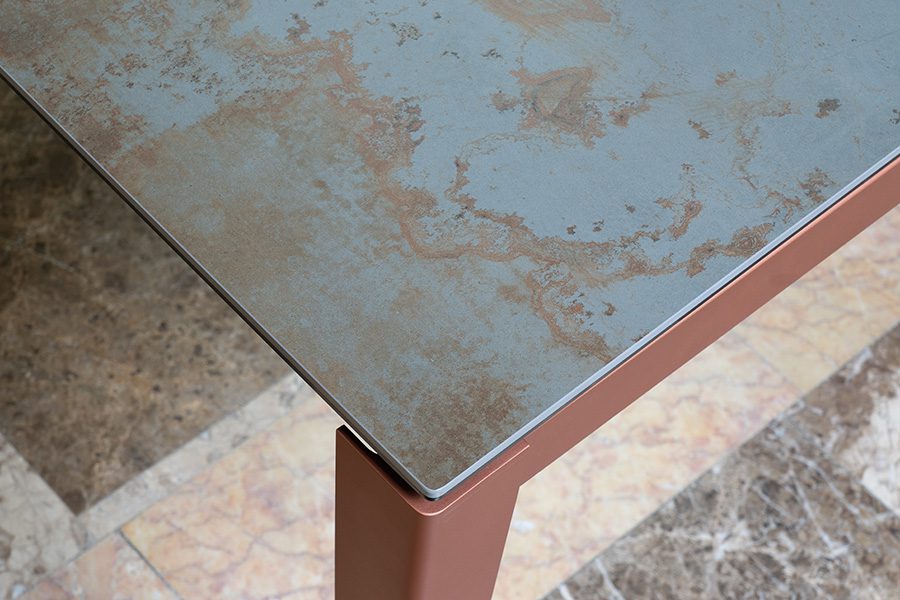 New England's sintered stone table collection
At New England Home Interiors, we supply a wide range of sintered stone dining tables. Within the collection, you'll find 14 different Dekton dining tables with 60 customisation options relating to the size, finish and colour. In addition, we stock one British-made Neolith dining table design which comes in 10 standard finishes and even more upon request.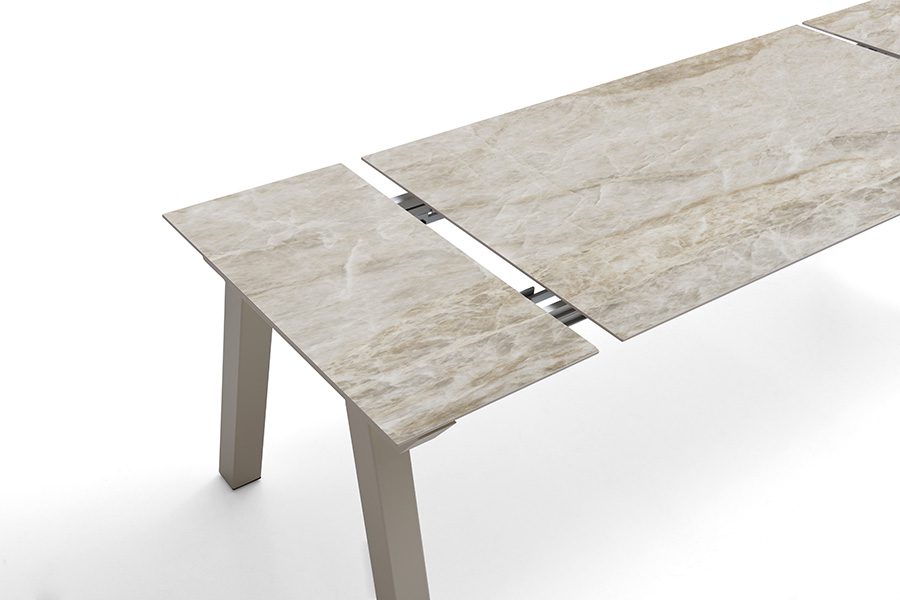 Browse large, fixed rectangular designs for spacious kitchens or sintered stone extendable dining tables for more flexibility. These can add several extra spaces when fully extended, but tuck away into a more compact size for general use. Each features either butterfly leaf folds or a pull-out mechanism with wheels, making it easy for one person to manoeuvre. Alternatively, you may prefer a sintered stone round dining table. These are great for smaller spaces and some even expand into larger oval shapes for when you have guests.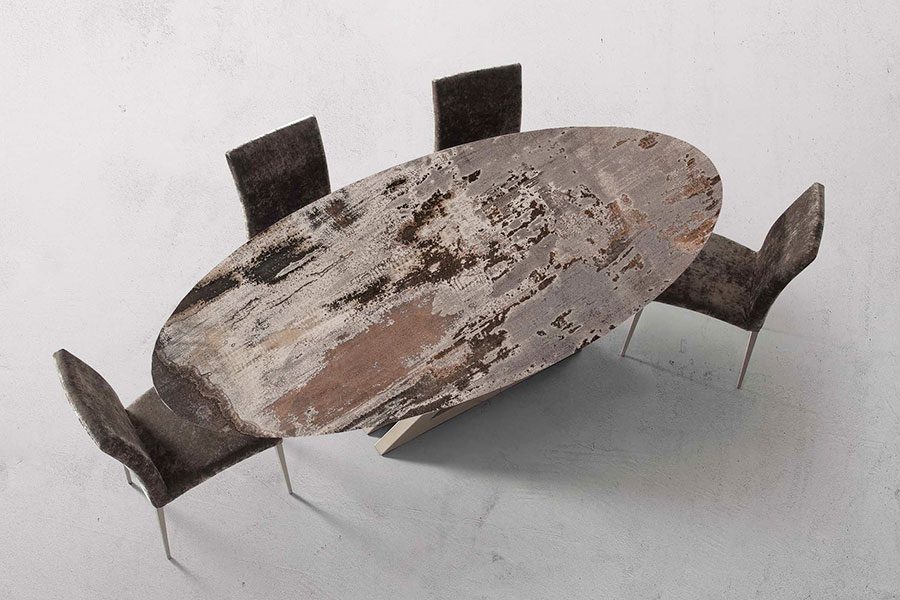 Once you've found a model you like, you can select a print for the top. This may be a plain block colour for a sleek, contemporary finish that will suit your minimalist décor. Or you could opt for a chic mottled stone effect or an eye-catching faux-marble veined design to create a focal point. You'll also have a choice of sturdy, powder-coated steel bases. These include 3-legged, criss-cross and u-shaped styles in many hues from anthracite grey to powder blue.
Bespoke sintered stone dining tables made to order
Haven't found the perfect design just yet? Then why not invest in a bespoke sintered stone dining table that meets your exact requirements? Custom fixed designs are available in sizes up to 3.2m x 1.2m, which is the largest slab size possible. Otherwise, our extendable models can be as large as 4.1m in length – ideal for large family homes and entertaining spaces.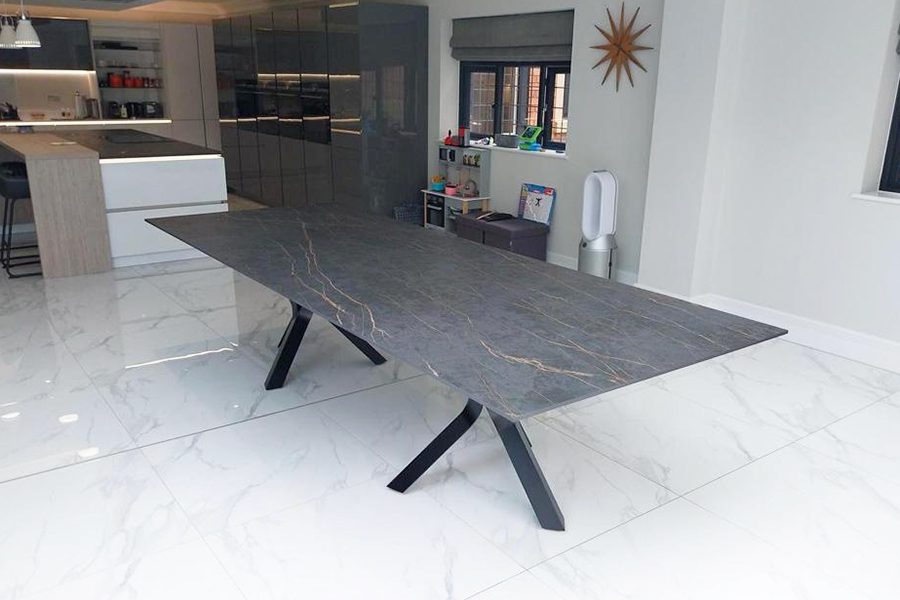 Again, you'll have complete freedom regarding the finished look, whether you'd like matte or high-gloss, block colours or intricate patterns. Additionally, we can help you colour match your sintered stone table with your existing Dekton countertops or side tables for a unified look. And we can arrange complementary bespoke dining chairs to complete the set.
If that wasn't enough, our bespoke sintered stone table service includes a free home visit. This may be useful if you're unsure which shape or size is best for the space you have. We'll also measure up to ensure that the item you order fits perfectly. Not to mention bringing along sintered stone swatches to give you an idea of what the finished piece will look like.
Or, if you'd prefer, you can visit our Horsham showroom to view numerous Dekton and Neolith sintered stone dining tables in person and supply your own measurements. Either way, our bespoke dining tables typically take 9-12 weeks to process. Sound good? Contact our friendly team today to learn more.