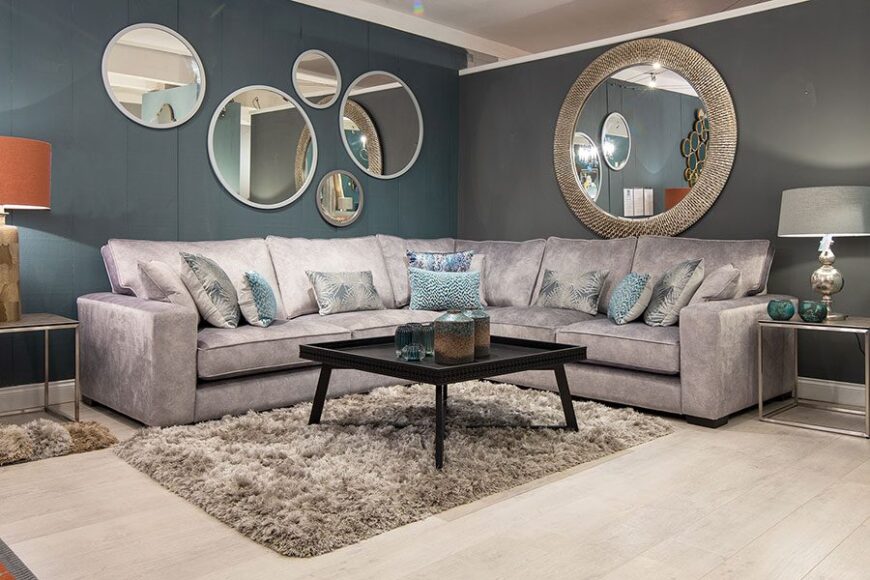 Fabric or leather? Right or left hand? With so many options available, picking out the best corner sofa for your space can feel overwhelming. With that in mind, we've created this handy sofa buying guide to help simplify the process. From the benefits they offer to tips for selecting the right style and fabric for your needs, read on for everything you need to know.
What is a corner sofa?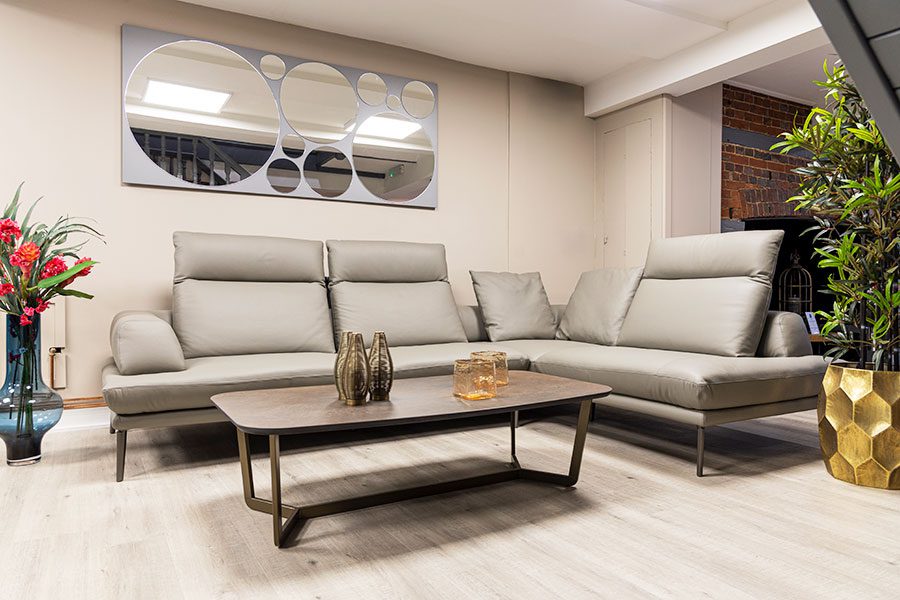 Corner sofas are typically L-shaped with a longer side and a shorter edge that extends along the adjacent wall, forming a right angle. Though some have two sides of equal length, and you can also get rounded C-shape designs. Either way, they slot seamlessly into the corner of a room and provide extra seating without the need for multiple pieces of furniture. Corner sofas can also be positioned more centrally to section off different areas in open-plan living spaces.
Right hand vs left hand corner sofas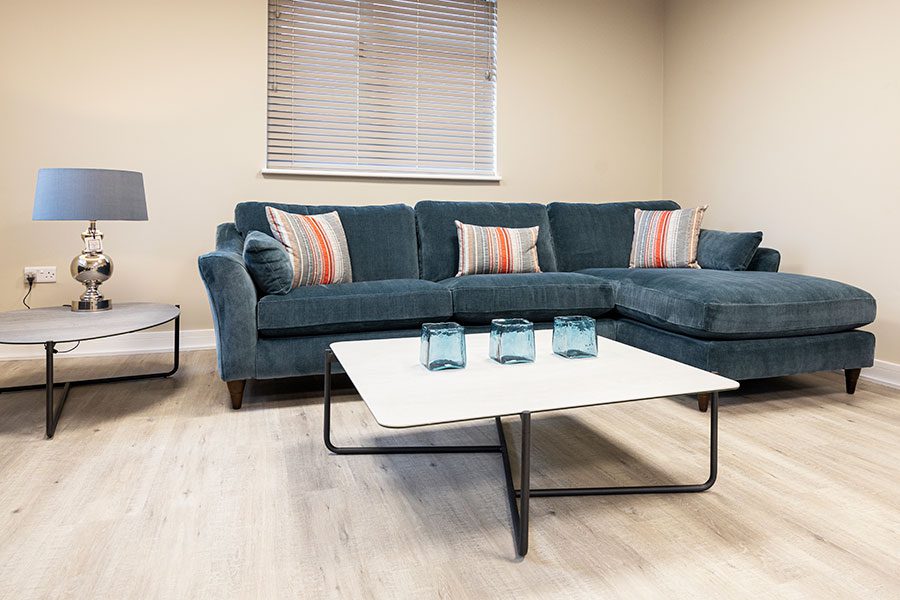 When ordering the best corner sofa for your lounge, you may find that the design you like is handed. This simply means that one side is longer than the other. This is particularly useful if you only have one blank wall to work with. The other may be partially taken up by a radiator or fireplace, for example.
Not sure which to go for? If you're standing in front of the sofa and the shorter edge is on your right, then it is a right hand corner sofa. If the short edge is on your left and longer side extends to the right, then it is a left hand corner sofa.
Corner chaise sofas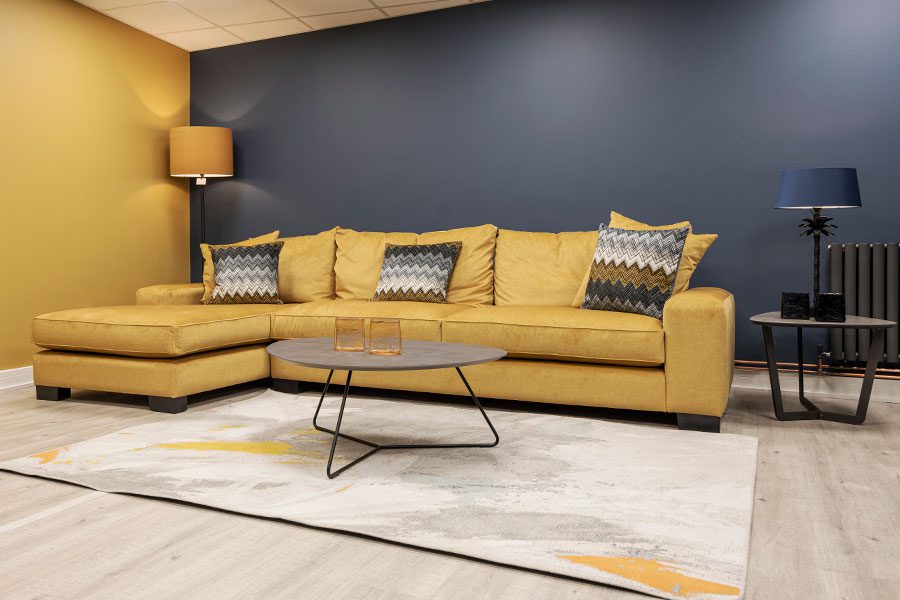 In some cases, you may also have the option of a corner chaise sofa. These are generally slightly smaller than traditional corner sofas. Instead of a second set of seats with back rests after the corner joint, there will be a built-in chaise section that extends outwards. This tends to serve as a footrest so that you can sit back and put your feet up. Meanwhile, others can sit comfortably on the other side. The chaise also provides additional seating if you have visitors.
Why choose a corner couch over a standard sofa?
More space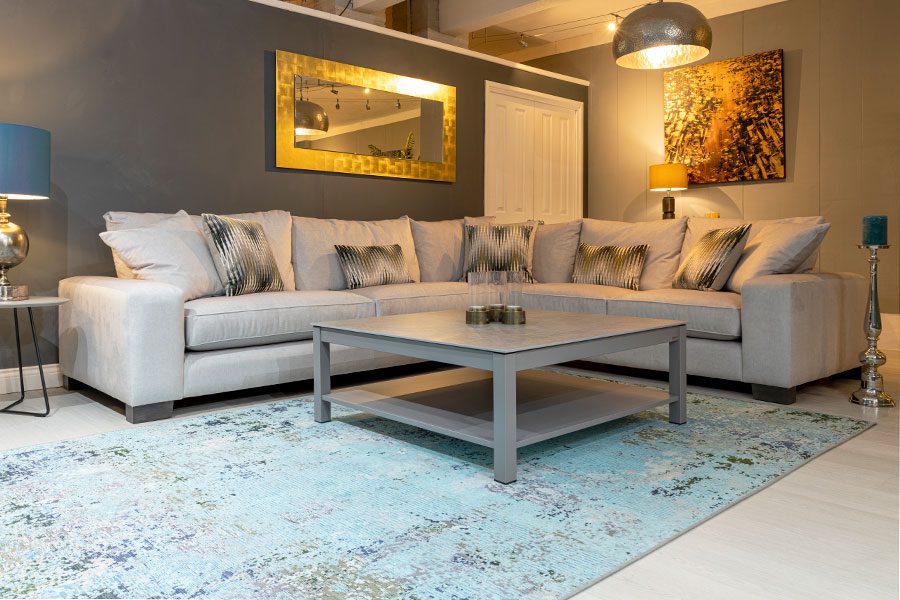 As mentioned, large models maximise seating space, making them the best corner sofas for large families or those who frequently entertain guests. Even the corners have seats – space usually lost with multiple sofas or sofa and armchair setups. Because of this, and fewer bulky frame ends, small corner sofas will save a considerable amount of floor space. And they can also be used to partition off an inviting seating area where you don't have a separate lounge.
Sociable seating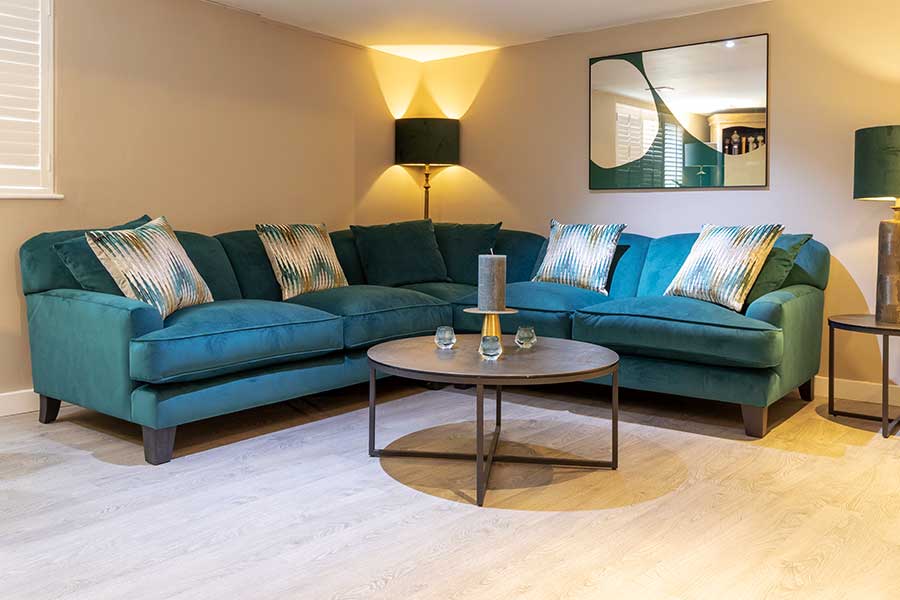 On top of that, a corner couch allows for more intimate seating arrangements and arguably better conversation. With a standard sofa, you have to sit side by side, whereas corner sofas enable you to face one another. And even with more compact corner chaise sofas, there are plenty of spots for visiting friends and family to perch. There's even space for your pets to curl up in a cosy corner!
Maximum comfort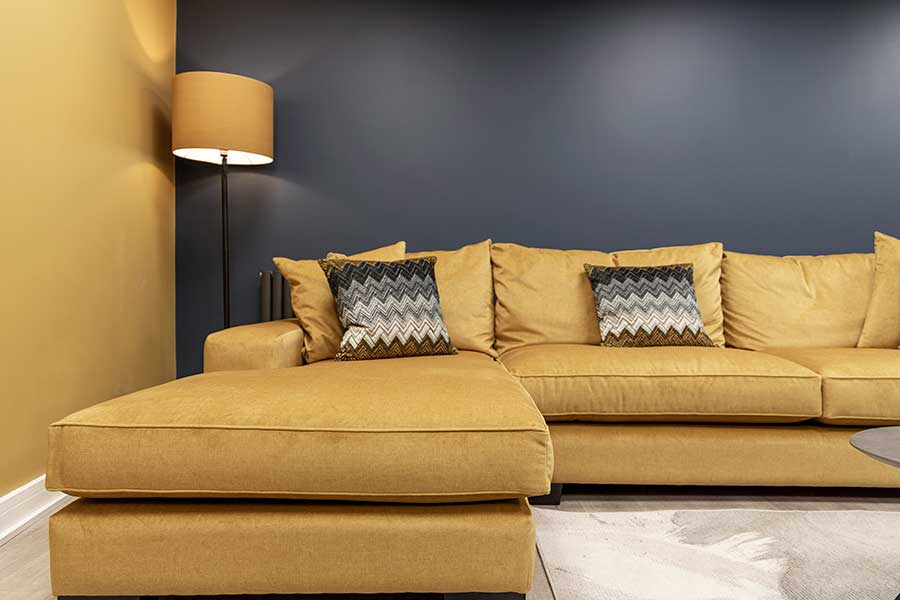 Enjoy stretching out in front of the TV or lounging with a good book? Then a large corner sofa or corner chaise model could be perfect. Depending on the design, two people can often put their feet up at a time, without the need for a recliner or footstool. Plus, many corner couches feature deeper than average seats and large, comfy cushions for a more relaxed seating style.
Great aesthetics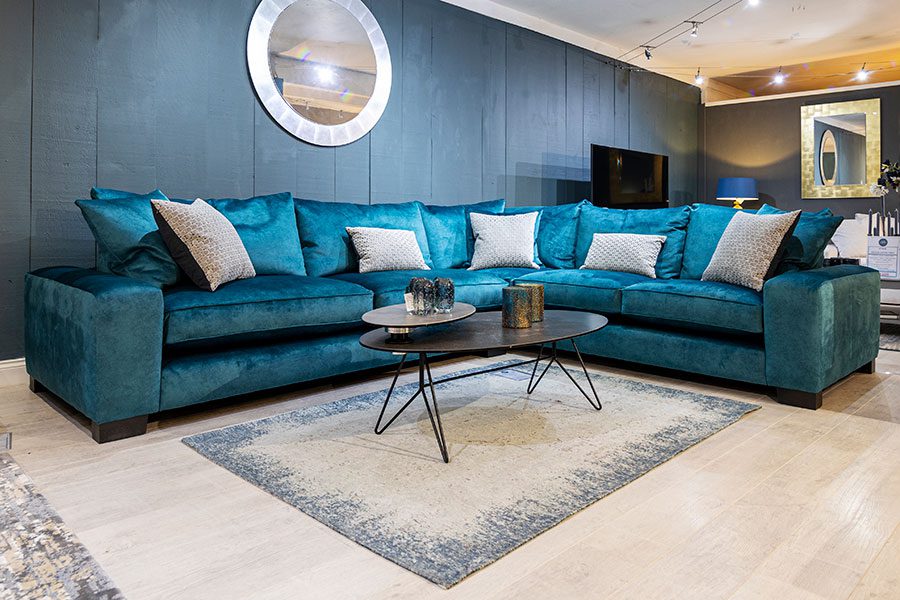 In terms of style, corner sofas come in a wide range of designs, materials and colours to suit different aesthetic preferences. From sleek leather styles to more traditional fabric corner sofas, there's a design to complement every interior theme. Moreover, many people prefer the modern look of a corner settee versus a classic sofa and armchair pairing. Especially where a statement design is used as a focal point and offset by complementary or contrasting décor.
New England's luxury corner sofa collection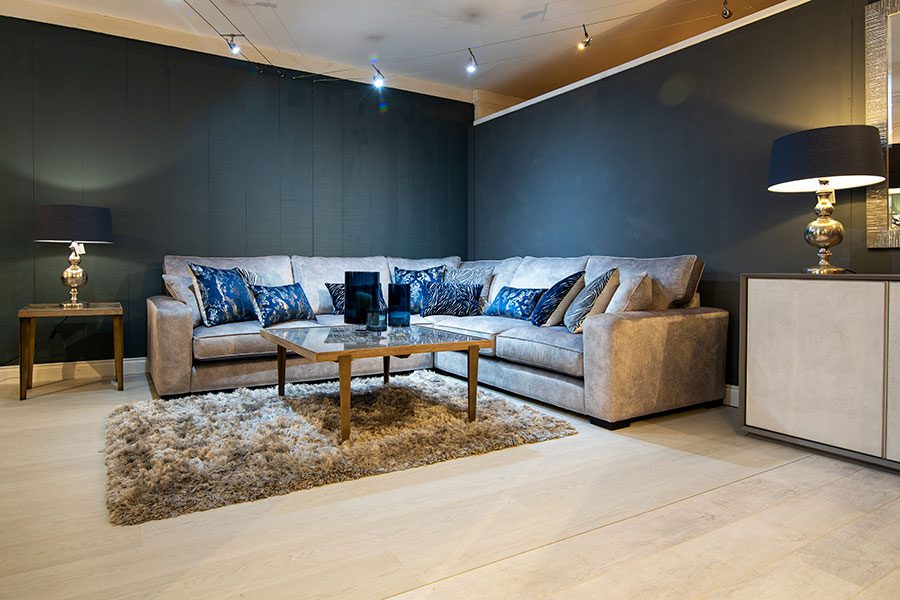 If our sofa buying guide has piqued your interest, you'll be pleased to hear that we have an array of options available. Searching for a classic corner sofa built with both style and comfort in mind? Then our luxury Austin model featuring a spring fixed back, plush cushions with piped trim and tapered feet may be right up your street. Alternatively, the Lexington provides a more modern take on the L-shaped sofa with clean, geometric lines and slightly firmer seat pads.
New England also stocks contemporary Como leather corner sofas with adjustable backrests and armrests to suit your height and preference. Not to mention timeless Surrey and striking Washington corner chaise sofas. Each comes with high density foam seat pads with Dacron wrap for a fuller, wrinkleless finish. And Washington boasts feather back cushions with chic cylindrical bolsters at the rear to help maintain their shape.
Whichever you choose, there are various sizes to choose from and the option of right or left handed layouts. Plus a host of upholstery options by top designers like Warwick and Wemyss, in shades ranging from vivid kingfisher blue to neutral slate grey. Or if you're worried about spills or allergens, the best corner sofa for you will likely feature new technology fabric. Stain and dirt repellent, you can't go wrong with durable AquaClean or FibreGuard upholstery.
Bespoke corner settee options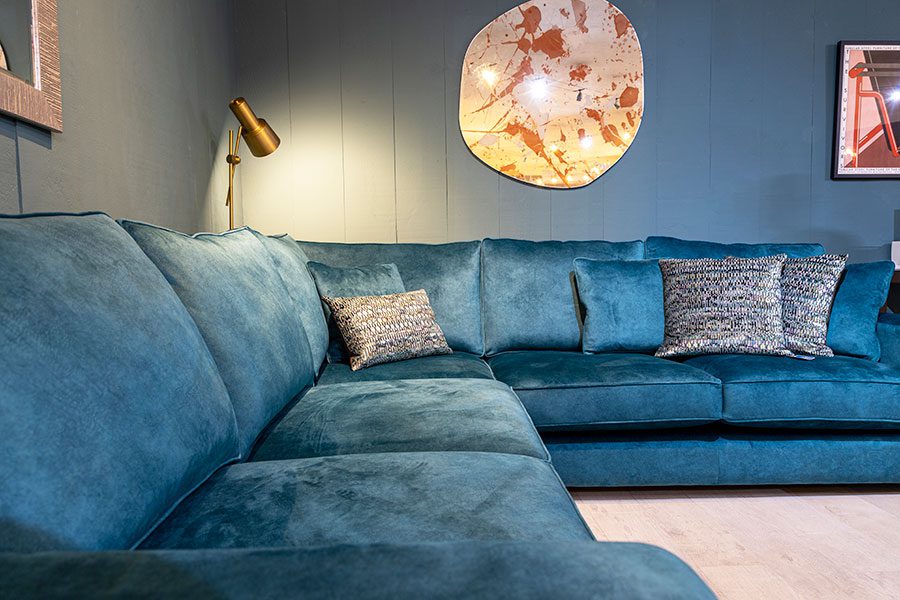 Have a specific design in mind? At New England Home Interiors, we specialise in high-quality bespoke furnishings. In terms of corner sofas, you can tailor everything from the upholstery and filling to the size, number of seats, feet and trims. In addition, we can supply u-shaped sofas – like corner sofas but with extended seating on both ends. Many of our standard sofas can also be turned into corner designs, while others can be transformed into sofa beds upon request. Learn more about our bespoke sofa service here.
Selecting the best corner sofa for you
All of our standard corner sofas are available to view online and in our dedicated Horsham showroom. Our cohesive in-store room layouts will help you get a feel for how the design may look in your home. Plus, you can view standard models and a huge library of fabric options, and discuss customisation options with our team.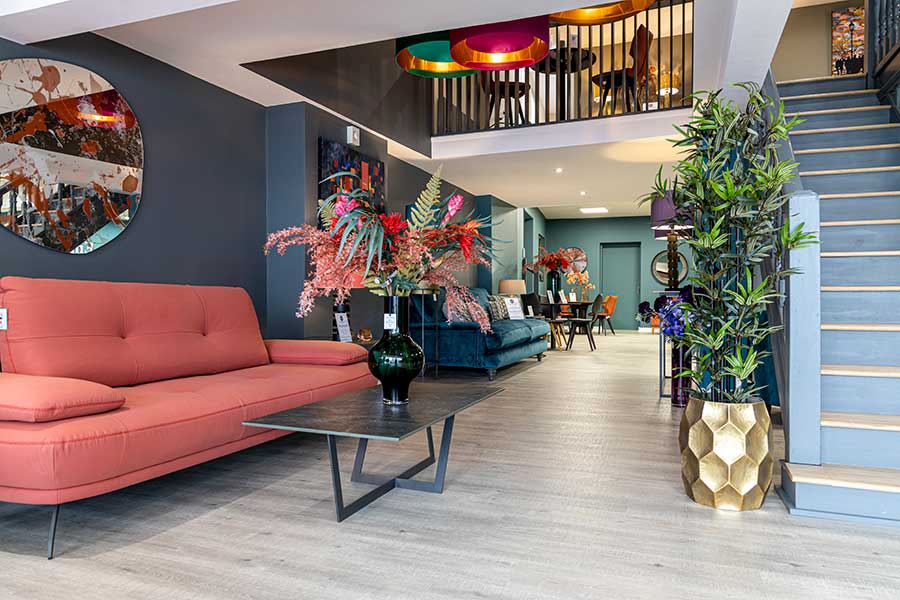 Alternatively, we can visit you at home. Appointments include a free of charging measuring service to ensure your preferred sofa will fit your space. We can also offer advice on whether a right or left handed model is the best corner sofa for you. And you'll have the opportunity to browse a large collection of fabric and feet samples to complement your existing décor.
Found what you're looking for? Lead times range from 12-15 weeks, with free local delivery and complimentary room positioning available on all corner sofa orders.